Judge Lina Hidalgo Commits to Harris County
Burt Levine | 3/1/2019, 10:36 a.m.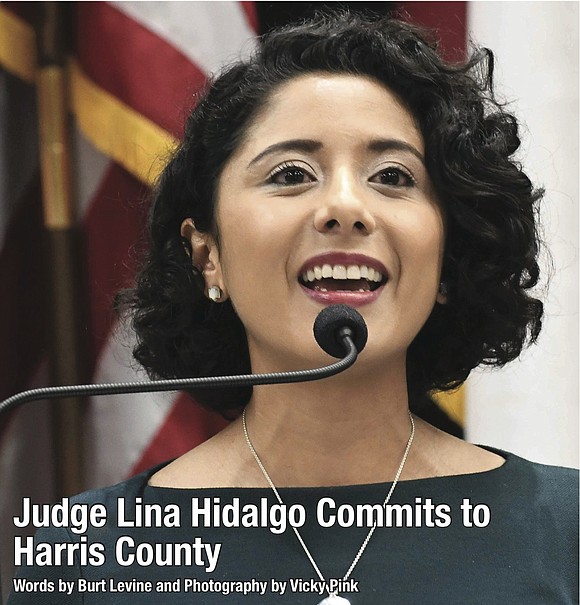 Lina Hidalgo's strikingly small figure and bright-eyed Latina looks caused political handicappers to dismiss her at 27-years-old for most of 2018. However, that happens no more around Harris County, where in her second month as the top elected official in America's third largest county, Harris County Judge Hidalgo oversees a $4.1 billion budget that employs more than 17,000 people.
"I sought this office because I want the American dream to exist for everyone across all Harris County and in this time when the White House is demonizing immigrants. I'm here to show all of this county, in this state, and country that we can be a welcome for immigrants, for all minorities in this majority minority county, and for women in this majority women county that come here from all over the world," said Judge Hidalgo who were elected as the only at large member of Commissioners' Court. She oversees the operations of a county that is the size of more than half the states in America.
"I chair our County's Juvenile Board, which oversees how children experience our justice system. I'm discussing with board members how to improve outcomes and fix what is, frankly, a broken system. How we treat our children matters. It defines who we are as a people," she said.
Hidalgo heralds Harris County as having grown with more new people calling it home every year of the last five years than any other Texas county. The county was the top magnet for new residents both from other Texas counties and from out of state. More than 10,100 people have moved to Harris County from California and more than 4,700 folks from Dallas County have packed up and moved down I-45 south here in the same time period.
"Harris County includes more than 30 cities and 4.8 million people with more people outside the city limits than inside. We're the city for them. It stretches across 1,700 square miles," she said in her sprawling still undecorated office atop the county courthouse where this week she celebrated her birthday as the youngest, the first woman, and first minority elected county's chief executive.
"The Harris County Judge is not a judge but is our county's top executive. To me only through proactive and creative leadership on issues like flood control, transportation, criminal justice reform, and health care access will our region remain among the most enviable destinations on earth for families to settle and educate their children," she said remembering her parents were committed to a better life for their family as she is for all Harris County families. This is why her family left the drug-ravaged Colombia during the Civil War.
Judge Hidalgo lived in Peru and Mexico before emigrating in America in 2005. She quickly enrolled in school and graduated from high school in Katy ISD. She continued her studies at Stanford. And in the same year she became an American Citizen, she dedicated hundreds of hours to the Texas Civil Rights Project, a project to improve the conditions of migrant farm workers in the U.S., and worked as an interpreter at the Texas Medical Center where she supported immigrant families seeking security for loved ones. Judge Hidalgo then pursued a joint degree in law and public policy at New York University and Harvard University conducting research on criminal justice policy and coordinating with groups to push criminal justice reform.