AboutThatCar.com: 2019 Ford Edge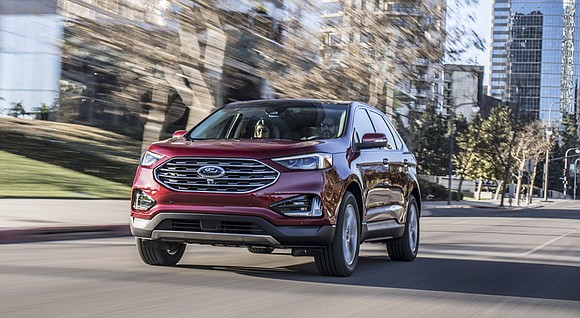 DETROIT – I was really impressed by the 2019 Ford Edge. In a phrase, it has grown.
I'm not talking about its size which looks about the same. I'm talking about stature and equipment and perception. I always thought the Ford Edge was a poor-man's Ford Explorer but not anymore.
I had the Titanium trim with all-wheel-drive. It came with what Ford has branded EcoBoost. In this case, that was a 2.0-liter twin scroll turbocharged engine.
This engine made 250 horsepower and 275 pound-feet of torque at 3,000 rpm. I would like to see that torque available at half the rpms but this was a very capable engine. It moved the 2019 Edge with authority, it provided plenty of oomph when needed and it was really quiet at low speeds. And it got 21 mpg in the city, 28 mpg on the highway and 23 mpg combined.
I neglected to say that the 2019 Edge also had paddle shifters. I did not use them but apparently enough drivers do because automakers keep equipping some vehicles with them. Anyway, I was mildly surprised that my test vehicle did not have drive-modes. But it really didn't need them.
It had a MacPherson strut front suspension and an independent integral link set up in the rear. Given that there were still some icy spots on the road, my driving was not all that aggressive. Still, the Edge's ride was smooth and steady. Although it had that intangible heft that comes with a quality build, the midsize Edge did not have that bounce that comes with truck based sport utilities; it had unibody construction.
The Edge sported a new front and rear fascia, a new grille, hood and liftgate. A new 8-speed automatic transmission and start-stop was standard across the range. It worked so smoothly the only reason I turned it off a couple of times was because I always do.
And the gear selector was a rotary dial mounted on the center console. It took a little getting used to. After five days, I was still reaching for the gear shift to put my test vehicle in park.
That brings me to the interior; Ford has come a long way. What used to be a weakness now seems to be a strength. The front seats, heated and cooled, were lumbar supportive, firm and they provided plenty of upper back support. In days past, Ford seats seemed to be built for shorter adults.
Anyway, I thought the quality of the rear seats fell off a little, they were a little hard but they were heated. There was plenty of head room and hip space. Leg room was also ample. The rear floor was nearly flat and I thought three people could sit abreast in the rear seats in comfort. That made it a bona fide five-passenger vehicle.
The 2019 Edge had a suite of safety equipment that has been branded Ford Co-Pilot360™. It included pre-collision assist with automatic emergency braking, blind spot monitoring, a lane-keeping system, and a rearview camera with cross-traffic alert and automatic LED high-beams. The Edge is Ford's first utility vehicle with post-impact braking; rain-sensing windshield wipers were also standard.