Chef Leticia Knows Latin Superfoods
Many of us don't necessarily associate healthy cooking with delicious, savory, and mouth-watering food. Here in the fourth largest city in the United States where Mexican food is plentiful, a large majority of our population may be unaware that there are Latin Superfoods.
However, Chef Leticia Moreinos Schwartz, with her new cookbook "Latin Superfoods, 100 Simple, Delicious, and Energizing Recipes for Total Health" clearly illustrates how to prepare and enjoy more healthy versions of foods such as avocados, peppers, beans, and other foods used in the preparation of Latin American cuisine.
In fact, Chef Leticia starts with a complete index of Latin Superfoods that are listed with photos to help the reader identify and understand the foods that are used in the preparation of the recipes in her book. She also gives alternatives for enjoying these foods; for example, there is an entire section dedicated to recipes for preparing smoothies, flavored water, and other beverages. One of my favorite beverages to make thus far is the "Mint Aqua Fresca", which is made with four ingredients and ice. It was truly easy to prepare and it was so refreshing to the taste buds.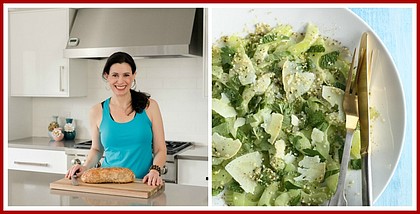 Second of all, if you are one of those people who loves to experiment with different flavor combinations, and likes to deviate from recipes, Schwartz's book is rich with ideas for preparing so many different dishes including soups. Another great aspect of this book is that vegans, vegetarians, and carnivores can truly benefit from all of the information contained in this well-written and organized text.

Chef Leticia knows her stuff when it comes to cooking; she is a "Brazilian-American chef who studied culinary and pastry arts at the French Culinary Institute and has worked at legendary New York restaurants such as Le Cirque 2000, La Grenouille, and La Caravelle.
She is also the author of "The Brazilian Kitchen," which won Best Latin Cookbook at the World Gourmand Awards, and My Rio de Janeiro. Chef Leticia has appeared on The Today Show, CBS Early Show, Fox Morning Show, ABC News, and local television. She was an NBC correspondent for the 2016 Summer Olympics in Rio.
To learn more about Chef Leticia go to her website: https://chefleticia.com/. Her cookbooks are available on Amazon.com and at Barnes and Noble.