A Moral Victory
Texans defeat the Raiders but lose a key player for the season due to injury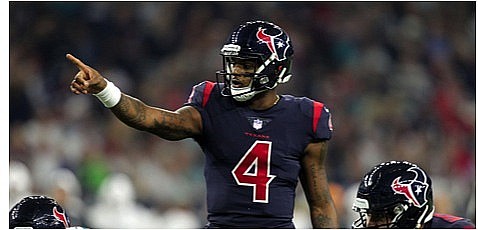 There is an old expression that says, "Can't see the forest for the trees." It is usually used when someone is too involved in the details of a problem to look at the situation as a whole.
The Houston Texans coaching staff must all be lined up in front of multiple trees after Sunday's 27-24 victory over the Oakland Raiders (3-4). Even though Houston (5-3) got the win, they also suffered a huge loss. All-Pro and future first ballot Hall of Fame defensive end J.J. Watt tore his pectoral muscle in the first half and it was announced by Watt in a heartfelt and emotional tweet that he was out for the season.
"This game can be beautiful, and it can also be brutal," said Watt, a three-time winner of the Defensive Player of the Year award. "Absolutely gutted that I won't be able to finish the season with my guys and give the fans what they deserve. I truly love this game and can't stand letting you guys down. Thank you for all of the thoughts & well-wishes."
The Texans were already playing with a depleted unit that was missing three starters from their defensive backfield in cornerbacks Jonathan Joseph and Bradley Roby and safety Tashaun Gipson Sr. Add Watt and rookie Lonnie Johnson Jr. (concussion) to that list and Houston looks more like a M.A.S.H. unit than a defensive one. Head coach and interim general manager, Bill O'Brien will be perusing the waiver wire and free agent pool to try and get some bodies on the field.
"He's a great football player (Watt), O'Brien said. "He's an even better guy. Unfortunately, we've been in this position before and I think we've got some guys here. A lot of different guys might be one guy that takes his place if that's the case, but we'll certainly miss him. That's obvious."
Houston got a very strong performance from their quarterback, Deshaun Watson. He threw for 279 yards and three touchdowns with no interceptions. Watson had two big targets on the day in "Mr. Reliable" DeAndre Hopkins who had 11 receptions for 109 yards and tight end Darren Fells who finished the day with two touchdown receptions. It would be the free agent (Fells) who would make the biggest catch of the day from a one-eyed quarterback in Watson.
With the Texans trailing the Raiders late in the fourth quarter, Watson was being pressured from his left side and rolled out to his right. As he was moving, a player from Oakland made contact with his foot to the front of Watson's facemask which caused a cut over his left eye. He would continue the play by hitting Fells for a 9-yard touchdown pass to put Houston up for good.
"This eye (left) went shut and could kind of see Fells going to my right," Watson said. "I had to re-adjust my helmet and then this eye (right) was actually going closed too, so I kind of threw it blind."
The Texans will now travel to London, England to play divisional foe, Jacksonville Jaguars on Sunday in an early morning kickoff. The game will start at 8:30 am CST.