Statement Game 2: Texans head to Baltimore for a tough AFC matchup against the Ravens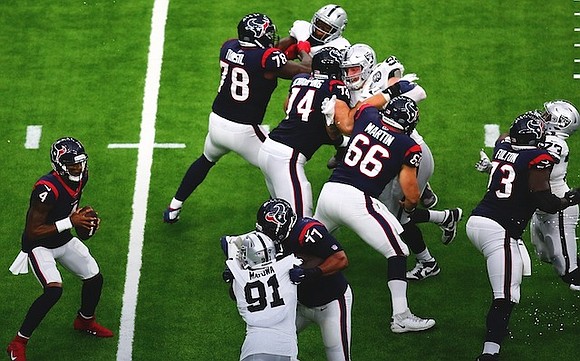 Over a month ago the Houston Texans were faced with a very difficult situation. They had to go into hostile territory and defeat a team that is one of the perennial favorites to represent the AFC in the Super Bowl. Houston defeated the Kansas City Chiefs by a score of 31 – 24 in Arrowhead Stadium to make a statement to the rest of the NFL that they wanted a say in that representation of the division.
Well, the Texans are about to play in another statement game this week against the hottest team in the NFL right now against the Baltimore Ravens.
Baltimore, which has a 7-2 record, is a very unique team that can cause long nights for the coordinators on both sides of the ball. Led by NFL MVP candidate Lamar Jackson, the Ravens have placed themselves in position to be mentioned with the Chiefs and Patriots (a team they defeated earlier this season) as the top team in the AFC. Jackson, the former Heisman Trophy Award Winner (2016), has set the NFL on fire this year by throwing for over 2,000 yards and rushing for 700 more that has led to a combined 21 touchdowns.
"He is very instinctive, very smart, and has a great command of their offense," said Texans head coach Bill O'Brien. "Competitive, great runner, great thrower. He can do it all. He is an MVP candidate for a reason. He has two games where he's had a perfect rating. He's playing at a high level."
For as much hype as the Ravens get on offense, they also have a quarterback per se on the defensive side of the ball. In the offseason the Ravens signed former Seattle Seahawks safety, Earl Thomas to bolster a defense who ranked number one in total defense last season.
"Earl is a great player," O'Brien said. "Very instinctive. He can do a lot of different things in that defense: blitz, play in the deep part of the field, and play down near the line of scrimmage."
For as much that is said about Jackson, the same could be said about Texans quarterback Deshaun Watson, who is also on that short-list of 2019 MVP candidates. Watson has displayed his growth and maturity this year by leading Houston to a 6-3 record which has them in familiar territory and that is atop of the AFC South. The Texans have the fourth-ranked offense (396.7 yards a game) in the league thanks to Watson, who averages 270 of those yards through the air. He has completed over 70 percent of his passes this year, which gives Ravens head coach, John Harbaugh, some concern.
"Very tough," Harbaugh said when asked about stopping Watson. "That's the first thing that jumps out at you on tape are all the different elements that they're in. Deshaun Watson operates in all of those worlds and then he puts his own flavor into the thing and makes plays. So, yeah, it's really tough."
Kickoff is at noon.