"Verlandered "
Astros Beat the Tampa Bay Rays in Game One of ALDS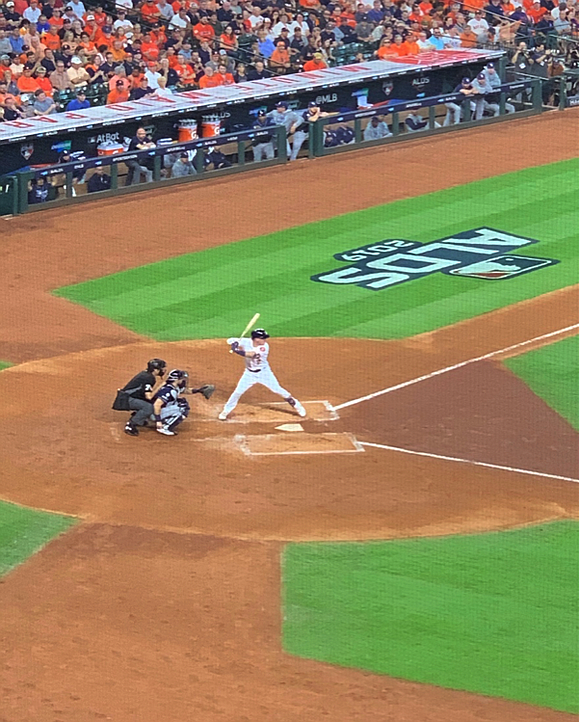 "We got Verlandered" - Tampa Bay Rays manager Kevin Cash response during the postgame press conference when asked about his team's performance.
Houston received a commanding performance by their ace, Justin Verlander (1-0), in Game 1 of the 2019 American League Division Series (ALDS). The Astros defeated the Rays by a score of 6-2 as Verlander pitched seven scoreless innings, allowing just one hit and striking out eight batters. He carried a no-hitter through four innings before surrendering a hit to Rays second baseman, Brandon Lowe.
"I mixed in enough quality pitches to keep them off balance," said Verlander about his early no-hitter. "As the game progressed I started to lock it in more and more. The last couple of innings I started to feel that my location was at its best."
Rays pitcher Tyler Glasnow (0-1), who made his first career postseason appearance, dominated the Astros hitters through four innings as well before surrendering a two-run homer to Jose Altuve on a 1-1 pitch in the bottom of the fifth inning to put Houston up 2-0. That was Altuve's ninth postseason homerun and his third straight season with a homerun in Game 1 of the ALDS.
"Hindsight's 20/20," Glasnow said about the Altuve homerun. "If I went, back, I would probably throw a curveball. There were a lot of heaters (fastballs) leading up to it. He is a really good hitter and he put a good swing on it."
Glasnow would be replaced by reliever Brendan McKay who struggled to keep the Astros off the base path by giving up a single to Michael Brantley, followed by a double off the left field wall to Alex Bregman. McKay would soon be taken out after striking out designated hitter Yordan Alvarez and replaced with Chaz Roe.
The Rays woes continued as Yuli Gurriel hit a two out pop fly off of Roe into shallow right field that was misplayed by the Rays second baseman. Lowe would commit an error as he failed to get to the pop fly that touched the end of his glove and that allowed two more runs to score giving the Astros a 4-0 lead and all the cushion Verlander would need.
"We were having really good at-bats at the beginning of the game, and mostly with two outs," Astros manager AJ Hinch said to the media after the game. "Just breaking through with the big swing for Jose doesn't surprise me. It's like clockwork, every ALDS it seems like he busts out with a really good game."
Houston would add two more insurance runs in the bottom of the seventh inning when rookie sensation, Alvarez doubled to right-center field for his first career postseason hit that drove in Bregman who had walked and stole second base earlier in the inning. Gurriel would follow Alvarez with a ground rule double to put the Astros up 6-2.
Astros All-Star reliever, Ryan Pressly would replace Verlander in the top of the eighth inning and would soon find himself in jam very quickly. Pressly, who is still trying to work himself back into mid-season form after being placed on the injured list two months ago after having arthroscopic surgery on his right knee gave up two runs before being relieved by Hinch for Will Harris. The right-handed pitcher got the final out of the inning and Roberto Osuna would get two strikeouts in the ninth inning to end the game.
With the win today, Verlander sets a Major League record by winning his eighth career Division Series game. He also is tied with former Atlanta Braves pitcher, Tom Glavine for third-place in MLB history with 14 postseason victories.
"I think in this first series, you have a little more of a leash," said Verlander. "Especially if your team gets you a lead like today. So, I think it affords you more of an opportunity to get a win."
The Astros will be back in action against the Rays for Game 2 of the ALDS on Saturday. 2019 AL Cy-Young candidate, Gerrit Cole (20-5), will be on the mound for Houston, as Tampa Bay will send out LHP Blake Snell (6-8). First pitch is at 8:07 pm cst at Minute Maid Park in Houston.