Unresponsive
Astros lose ALCS Game 1 to the Yankees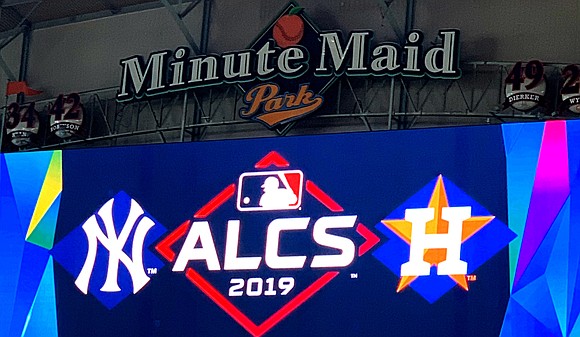 When the weatherman predicted there would be a cold front in Houston on Saturday, he meant the temperature, not the Astros bats. Houston (0-1) was limited to three hits tonight as they lost Game 1 of the ALCS 7-0 to the New York Yankees (1-0).
"The Yankees, they can come at you in a lot of different ways," Astros manager AJ Hinch said to reporters after the game. "I don't care what venue you're at, they have their approach.
New York's approach was plain and simple tonight. Just give the ball to RHP Masahiro Tanaka (1-0) and just let him work. Tanaka threw six scoreless innings on 68 pitches, allowing only one hit and four strikeouts. He is the best active postseason pitcher with a 1.32 ERA in seven-or-more starts and owns a 1.50 ERA against the Astros to go along with a 5-2 record.
"The happiest thing for me is us being able to get the win," Tanaka responded through his interpreter about his performance tonight. "Knowing that you went out there and you gave everything you had, that's the feeling that you are looking for."
After three scoreless innings, New York struck first in the top of the fourth inning when 22-year old phenom, Gleyber Torres doubled off of Astros starting pitcher, Zack Greinke (0-1) to right-center field to drive in DJ LeMahieu to put the Yankees up 1-0. LeMahieu had reached second base after he hit a single off of Greinke and advanced on a wild-pitch that got past the catcher. Torres's double extended Torres's postseason hitting streak to nine games.
The Yankees would strike again in the top of the sixth inning when Greinke gave up two solo homeruns to Torres and Giancarlo Stanton to put New York up 3-0. Houston could not control the bat of Torres as he went 3-for-5 on the night and had a season high five RBI.
"I just go to home plate believing what I can do, and each opportunity I got I just believe in myself and I just like to help and be confident," said Torres.
Houston got a solid pitching performance from Greinke (6 innings, 3 earned runs and 7 strikeouts), but it was their bats who failed them at Minute Maid Park. The Astros hitters went 3-for-27 for the game and their streak of 30 consecutive games of hitting a homerun (regular and postseason) was broken. In the last 4 games in the postseason, the Astros only have 24 hits and 10 runs scored, but that doesn't cause concern for 2017 World Series MVP George Springer.
"Hitting is hard," Springer said. "But with that being said, we are a good team and we understand that. We just have to grind and string some good at bats and see what happens."
The only bright spot for Houston hitters was Jose Altuve extending his postseason hitting streak to 10 with his seventh-inning single.
2019 AL Cy-Young candidate, Justin Verlander (1-1, 3.38 ERA) will take the mound in Game 2 of the ALCS for the Astros, while the Yankees will send left-hander James Paxton (0-0, 5.79 ERA).
STYLE POINTS:
Astros 2B Jose Altuve has reached base safely in 15 straight postseason games, dating back to Game 7 of the 2017 World Series.
Yankees 2B Gleyber Torres became the 6th player in MLB history aged 22 years old or younger to record multiple 3-plus hit games in the same postseason.
Yankees 3B Gio Urshela hit his first career postseason homerun in the ninth inning.