Cole takes a bite out of the Big Apple
Astros defeat the Yankees to take a 2-1 lead in the best-of-seven ALCS.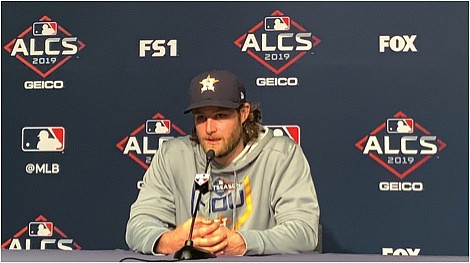 New York, NY- It was very "Cole" in the Bronx tonight as the Houston Astros (2-1) took a 2-1 lead in the best-of-seven ALCS after defeating the New York Yankees (1-2) by a score of 4-1. Starting Astros pitcher Gerrit Cole (1-0) threw seven shutout innings while striking out seven more and helped Houston regain home-field advantage against New York.
"I just feel really blessed to be here," said Cole who now has now struck out 32 batters in his last three starts. "I was here last year sandwiched in between two Cy Young Award winners, and I was sandwiched between their lockers. This year we still have two Cy Young Award winners and an MVP on the pitching staff on the pitching staff two years in a row. I just feel really blessed."
Houston set the tone early in the game with a homerun by second baseman, Jose Altuve in the first inning off of starting Yankees pitcher Luis Severino (0-1) to give the Astros a 1-0 lead. It was Altuve's 12th home run of his postseason career, tying him with teammate George Springer on the Astros all-time list. He also extended his hitting streak to 12 games, a streak that started back in Game 2 of the 2018 ALCS.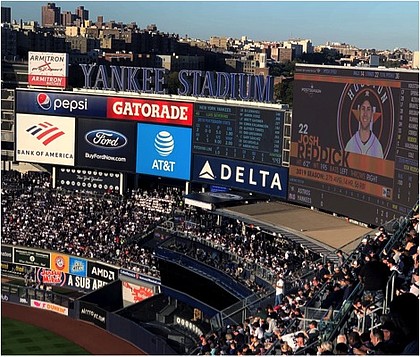 "I just try and put the ball in in play and get on base and steal some bases and in the end, score some runs to help my team," Altuve said
The Yankees would respond by loading the bases against Cole in the bottom of the first, but he worked his way out of it by getting Didi Gregorious to ground out to Jose Altuve to end the inning. Houston would get another much-needed offensive boost in the top of the second inning when outfielder Josh Reddick hit another solo home run to right field off of Severino to increase the lead to 2-0.
"This is a team that you are not allowed to make mistakes," said Severino who pitched five innings allowing two runs while striking out six batters. "Two bad pitches. Two sliders, and you can't miss with those pitches right down the middle."
Those two runs would be all that Cole needed to keep command of the game, even though he was not as crisp as he normally is. In the bottom of the fifth inning after allowing a double to Edwin Encaenacion with two outs, Cole walked Gleyber Torres to put two men on base, but would get Gregorious to hit a long fly ball to the right field warning track before being caught by Reddick.
"Initially I wasn't worried about it off the bat, and then I turned around and realized where we were playing and so I got a little worried," said Cole. "Reddick kind of drifted back. When he has a beat on it, it keeps my blood pressure down."
Cole allowed nine baserunners which included a season high five walks. That was the first time all season he has walked more than three batters in a game. He has not allowed a run in his last three postseason starts improving to 3-0 with a 0.40 ERA. The 2019 AL Cy Young Award candidate has not lost a game in his last 25 starts dating back to late May.