One More to Go
Astros win Game 4 to push them closer to a return to the World Series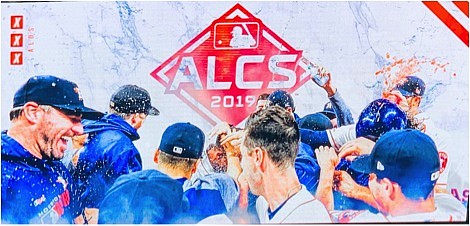 New York – The Astros are on the brink of going back to their second World Series within the last three years. Houston (3-1) got a much needed and some might think unexpected victory on last night by beating the New York Yankees (1-3) in Game 4 of the American League Championship Series (ALCS) by a score of 8-3. Houston will now send their ace, Justin Verlander to the mound in Game 5 to try and close out the series, while the Yankees will start James Paxton to stave off elimination.

Starting Astros pitcher Zack Greinke had a rough first inning, throwing 28 pitches and walking in a run after loading the bases with three straight walks. Greinke would settle down to limit the damage by striking out Gary Sanchez to end the inning as the Yankees led 1-0. That would be the only run allowed by Greinke as he gained control of his pitches by limiting New York to just two hits before exiting in the bottom of the fifth inning.
"The early walks in that inning was very unusual, just because he rarely misses four times in a row," AJ Hinch said of Greinke's two four-pitch walks. "They had very disciplined at-bats. So, I think it was a little bit more about them being disciplined. But Zack getting out of the first with only one run, having spent a lot of pitches and a lot of stressful pitches and some really good at-bats by the Yankees was pivotal for us to hang in there."
Houston would strike in the top of the third inning off of Yankees starter Masahiro Tanaka. After a walk to Robinson Chirinos and surrendering a single to Josh Reddick. He would give up a 408- foot homerun to George Springer to put the Astros on top 3-1. The three runs are the most Tanaka has given up in eight postseason games.
That lead was put in jeopardy in the bottom of the fifth inning when Greinke gave up a single to New York's first baseman, DJ LeMahieu and walked outfielder Aaron Judge. Astros All-Star reliever Ryan Pressly came in the game with one out and immediately gave up a walk to Aaron Hicks to load the bases. He would then retire the side by striking out Gleyber Torres on an 88-mph slider and Edwin Encarnacion on a 94 mph four seam fastball.
New York has been very bad this series with runners in scoring position. They went 0 for 7 tonight and is now 4 for 27 in the ALCS. The Yankees have stranded 33 runners and struck out 43 times against the Astros. They have only drove in one run in the three straight losses to Houston which is of major concern to manager Aaron Boone who watched his team have the best batting average in Major League Baseball with runners in scoring position.
"We played poorly tonight. There is no other way to explain it," said Boone. "We need to flush this immediately because we need to get over this in a hurry and come put our best foot forward.