I'm Coming Home
Astros head back to Houston with a 3-2 lead after losing to the Yankees 4-1.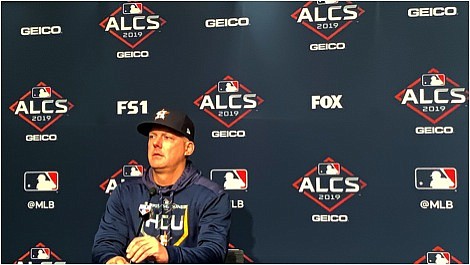 I'm coming home, I'm coming home
Tell the world I'm coming home
Let the rain wash away
All the pain of yesterday
I know my kingdom awaits
And they've forgiven my mistakes
I'm coming home, I'm coming home
Tell the world I'm coming
Those lyrics are from the song, "Coming Home" by Diddy featuring Skylar Grey. I can imagine that they describe what the Houston Astros (3-2) were thinking in the clubhouse after losing Game 5 of the ALCS to the New York Yankees (3-2) by a score of 4-1. Houston now has two chances to win one game at home and complete the task of securing their second American League Pennant in three years and go back to the World Series.
Facing a loud and rambunctious crowd in Yankee stadium, the Astros were able to get on the board early when leadoff hitter George Springer singled to get on base and advanced to third on a groundout by Jose Altuve and a wild pitch from Yankee starter, James Paxton (1-0). New York catcher Gary Sanchez was unable to hold on to a ball in the dirt and Springer would score easily from third to give Houston a 1-0 lead in the top of the first inning.
One run is normally enough for a guy who has his ticket stamped to the Major League Baseball Hall of Fame in Cooperstown, but there was something about tonight that just seemed a little different for Astros starting pitcher, Justin Verlander (0-1). The 14-year vet who won 21 games this past regular season had dominated the Yankees in the postseason with an ERA of 2.38 in seven starts and a 4-0 record was not in 2019 AL CY Young Award candidate form.
Yankees first baseman, DJ LeMahieu, sent the second pitch of the game by Verlander 355-feet to right field to tie the game up at one a piece.
"We wanted to give him our best shot," said LeMahieu in the post-game press conference. "Just trying to get things going. We had a tough top of the first inning, so we really needed to get things going today."
Verlander gave up two more hits to Aaron Judge and Gleyber Torres to put runners in scoring position and no outs. It was similar to the first inning Game 4 starter Zack Greinke had the night prior when he walked in a bases loaded run. Verlander gained some control by striking out Giancarlo Stanton on seven-pitches. Things would take a turn for the worse when outfielder Aaron Hicks hit a three-run homer that was inches away from being a foul ball but hit the right field foul pole to clear the bases and put New York up 4-1.
It was the first time the Astros ace had allowed a pair of first-inning home runs in his 28 postseason starts and since being acquired by Houston, he had never surrendered four runs in one inning. He would go on to retire 20 of the next 21 batters he faced before exiting the game in the eighth inning giving up four earned runs, striking out nine with no walks.