Déjà Vu
Altuve's walk-off homerun sends the Astros to the World Series.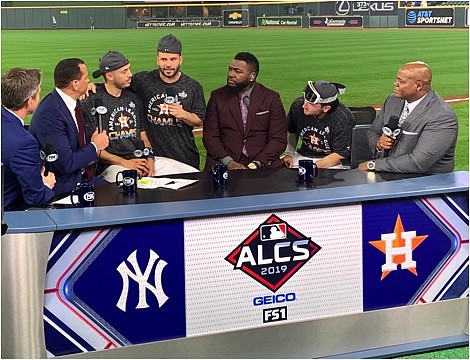 If you closed your eyes tonight and just listen to the fans, you would think it was October 21, 2017, all over again. On that Saturday night in front of a sold-out crowd in Minute Maid Park, the Houston Astros defeated the New York Yankees 4-0 to earn their second trip to the World Series in franchise history. We all know how that ended with the Astros winning their first-ever World Series title against the Los Angeles Dodgers.
If history repeats itself, the Astros will be hoisting another Commissioner's Trophy in the downtown streets of Houston, Texas in a victory parade. They took the second step in that process by defeating the New York Yankees in Game 6 of the American League Championship Series in dramatic fashion.
Houston got a walk-off home run by the second baseman, Jose Altuve to win 6-4 and advance to the 2019 World Series against the National League Pennant winners, Washington Nationals.
"I was just thinking something I can drive, I have my game plan," said Altuve who was awarded ALCS MVP. "I wasn't trying to hit a homer I was just thinking to hit the ball hard, get on base and keep the momentum. Thank God the ball went out and we won the game."
Altuve hit an 83-mph slider off of Yankees All-Star closer, Aroldis Chapman over the left field wall and drove in George Springer who earned a walk on five pitches to win the game and bring a sold-out Minute Maid Park crowd to its feet in excitement.
On a day where both managers decided to use a plethora of pitchers from the bullpen and save their starters for a potential Game 7, the fireworks started in the bottom of the first inning for the Astros. Altuve got on base with a double to left-center field and Alex Bregman earned a walk to put runners on first and second base with two outs. That's when first baseman Yuli Gurriel came to the plate and hit a home run off of Yankee starter, Chad Green to put Houston up 3-0. It was his first 2019 postseason home run and it could not have come at a better time.
"The pitch he hit was incredible that he could get to it and hit the ball out of the park," Astros manager AJ Hinch said. "He hits a lot of home runs in this park."
New York chipped away at the lead in the top of the second inning when DiDi Gregorius doubled to right field off of Astros starter Brad Peacock and was driven home on a Gary Sanchez single up the middle to cut the lead to 3-1. Peacock would be replaced after he walked Gio Urshela to put runners in scoring position with two outs. Hinch would bring in reliever Josh James and he struck out Brett Gardner looking.
The Astros suffered a major blow to its bullpen rotation when All-Star Ryan Pressly came into the game in the top of the third inning to relieve James who had worked himself into a two-out jam as well. With the bases loaded, Pressly got Gregorius to hit a ball up the first baseline. As he retrieved it and tagged him out, he came up limping. Pressly would be removed from the game after having right knee discomfort to the same knee that caused him to miss games this season.