Prairie View A&M defeats Texas Southern 44- 23 in 35th Annual Labor Day Classic behind Tucker's three touchdowns.
Prairie View A&M put the rest of the Southwestern Athletic Conference (SWAC) on notice that they will be a force to be reckoned with this season. They picked up right where they left off last year by displaying their very aggressive and high-octane offense in the 35th Annual Labor Day Classic.
The Panthers (1-0, 1-0 SWAC) defeated their in-state rivals Texas Southern University (0-1, 0-1 SWAC) by a score of 44-23 at BBVA Compass Stadium in front of the 15,000 fans in attendance. Prairie View has won the last five meetings by outscoring Texas Southern 201-89.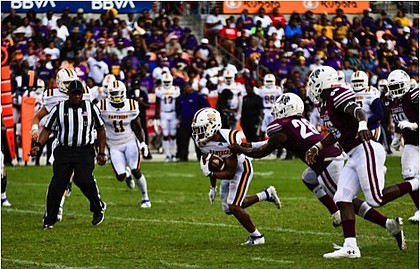 Prairie View led the SWAC in scoring (33.5PPG), passing (256 passing YPG) and finished second in rushing offense (202.2 rushing YPG) and total offense (459 YPG) last season.
"We want to be known as a big play team," said PVAMU head coach Eric Dooley when asked about how his teams high scoring offense has carried over from last season. "I want to take my hat off to Texas Southern as they did some things that stopped us for a couple of series. But, you know, my hat's off to my team as well."
Florida Atlantic transfer, quarterback DeAndre Johnson, helped the Tigers build a 13-6 lead after the first quarter. The "Last Chance U" (Netflix) star hit preseason All-SWAC wide receiver Tren'Davian Dickson for a 12-yard touchdown pass.
That lead would be temporary as the Panthers got things going in the second quarter when their dynamic running back, Dawonya Tucker ran for a 17-yard touchdown to tie the score at 13. He would then bring the Prairie View fans to their feet with a 66-yard explosive run to the endzone to put the Panthers up for good.
"Word in the conference was I didn't do enough," said Tucker who finished the game with 188-yards on 11 rushes and three touchdowns. "I set some personal goals and outside of the win as a team, I marked this game. I wanted to go out with a bang."
Kicker Zach Elder kicked a 23-yard field goal to put the Panthers increase the lead to 23-13 going into the half.
Coach Dooley must have pulled his quarterback Jalen Morton to the side during halftime and told him that they were going to air it out in the second half. Morton connected with junior wide receiver Kalen Riles for a 10-yard score to open the half. He would later throw a beautiful spiral downfield to receiver Tony Mullins (6 catches for 141yards) for a 48-yard score to put the game out of reach for the Tigers.
'We felt confident enough that all we had to do was go make plays," said Morton whose 350-yards passing, and two passing touchdowns contributed to the 615 total yards of offense for the Panthers.
TSU, who amassed 423 total yards, did not go down without a fight. Johnson, who finished the game with 259 yards passing and two touchdowns, threw a touchdown strike to senior tight end Chris Long for 40 yards late in the third quarter to pull within two scores. But Panthers running back Tucker opened the fourth quarter with a 58-yard run to seal the game.
"Our guys went out and played hard," said TSU head coach Clarence McKinney who was making his debut as the 17th head coach in school history. "We made some mistakes that we are not accustomed too, but it was our first game. The biggest thing is that they went out and played from the opening kickoff and played to the final whistle."
Prairie View will be back in action next Saturday against the University of Houston, while Texas Southern will travel to San Antonio to take on Incarnate Word.