NRG: 'The Culinary Capital of the South'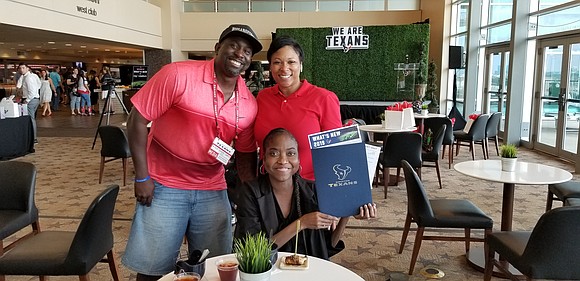 Houston Texans President Jamey Rootes is issuing an invitation to all football fans to a "Taste of Houston, the Culinary Capital of the South." Rootes put out the call during the unveiling of all that was new NRG stadium this year. Suite renovations, new concession items, designer clothing collection for women, touchdown deals, and an app makeover, Texans' fans will have an experience that is sweeter to lounge in, tastier to the palette, and easier to navigate during the 2019 season.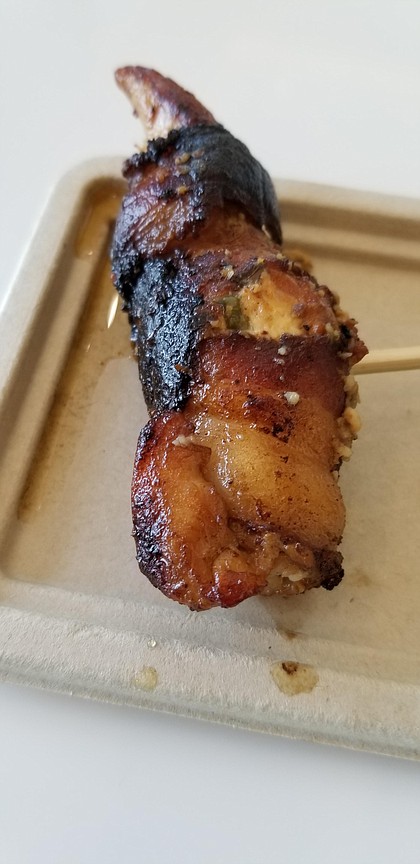 New Concession Items
My favorite part is always to see what is new on the menu and oh they're some good ones. Of all the new offerings, the most desired were bacon wrapped chicken skewers from BB's Tex Orleans Café. Awe the bacon was cooked perfectly giving a little crunch to the perfectly tenderized chicken. BB's is also dishing out some Cajun empanadas and shrimp po'boys. A close second was Gringo's Tex Mex sampler that comes with chicken quesadillas, beef empanadas, chicken taquitos, southwest chicken eggrolls with Chile con queso and Amazon sauce. Taco lovers will get excited over Gringo's street tacos with beef rib eye tips. All the meats taste like they are straight off the grill. Coming in third was Dish Society's shrimp and grits. These made me happy as they were not overly cheesy or oversaturated with peppers and onions. I was not a big fan of the cheese curds from Curds and Cakes. It is not that the original and blue moon jalapeno beer battered cheese curds weren't flavorsome, it just wasn't for me.
Although I don't know the price points of the above I know NRG is not pricing fans out of food options even if they might be a little on the high end. Touchdown deals are filling for a great value. Located throughout the stadium, touchdown deals with the classic options are just $5. Get a popcorn, nacho, or hot dog combo for $5 each; $2 water; $2.50 12oz domestic beer; or a $5 domestic draft beer.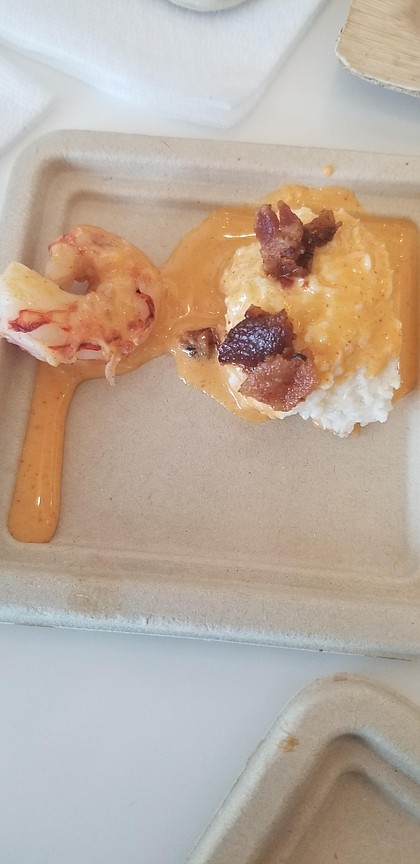 Suite Changes
Luxury suites have always been the best places to watch any Texans' game for the oversized couches, high viewing point, and attendants catering to your needs. For 2019, the suites get a makeover for a modern look that has slowly taken shape over the past three years. Floors have been replaced to a wood grain style. With the new flooring also came new furniture, lighting, and backsplashes. Induction warmers and commercial grade refrigerators are ready to heat things up and cool them down.
Ring of Honor Suites
As if these suites could not get any better, the Texans have raised the prestige of them to combine with the honor of the Texas Legends giving them a distinctive look noting the status.
Fashion Forward Fans
Fan gear for women has not always been the most flattering. Tailoring a football jersey to fit a woman's frame is great but something with a more feminine flair will be great. Ladies, the Texans heard and have responded this season with a new collection just for women featuring Houston-based fashion illustrator Rongrong DeVoe's custom drawings. The drawings are of four ladies all ready for the game wearing head-to-toe Texans gear depicting the different type of fan personalities. There is the laid-back fan with a nod to the classic old school flavor that looks a bit 'baseballish' to me with Texas flag cowboy boots. Next to her is the lady that says 'game on' with her ripped jeans and oversized Texans necklace. Alongside her is the down home girl in her Texans cowboy hat, white boots, and Samos Texans shirt. Last is the Texans diva in an all-white ensemble with the Texans logo boldly on her chest.
New App
Finally, there is a new app with an integrated map where you can stream the home games, personalize app icons and wallpapers, and navigate a new design and layout.
NRG is giving fans more than just a taste of Houston. It is giving fans a taste of football on an entirely different experience like none before. Are you ready some football? NRG says they sure are!