AboutThatCar.com: 2020 Toyota Highlander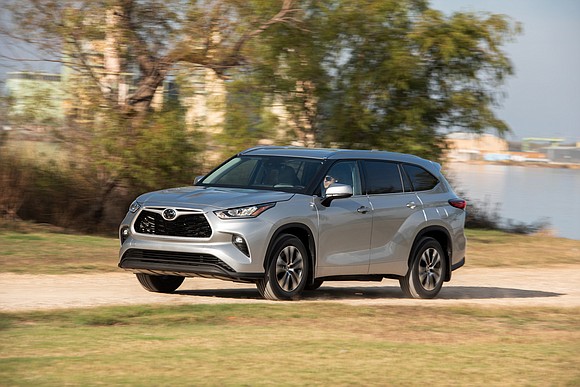 DETROIT – The last version of the Toyota Highlander had about a nine percent share of the crossover market. But the automaker would like a bigger slice. Implicit in that desire is that it will need to create a better piece of pie.
That is exactly what designers think they have done with the 2020 Toyota Highlander, which they pitched as redesigned from the ground up. Well, not exactly.
The gasoline engine powering the restyled Highlander was a carryover but don't get it twisted. This engine was no slouch. The 3.5-liter V6 made 295 horsepower and 263 pound-feet of torque. It was mated to an eight-speed automatic transmission.
The new Highlander can tow up to 5,000 lbs. when equipped with the towing package. It includes a heavy-duty radiator with engine oil cooler and improved fan performance. Trailer sway control uses the vehicle stability control to help resist unwanted trailer movement.
Start and stop engine control was standard.
There is also a new Toyota Highlander Hybrid and the automaker wants to improve sales of this model as well. It is looking to double the hybrid's percentage of Highlander sales, which were 230,000 last year, from 10 percent to 20 percent.
The 2020 Highlander Hybrid is powered by a 2.5-liter four-cylinder engine with two electric motors in a system that's more compact, and more efficient than before, the automaker said. The gas engine employs variable valve timing-intelligent system by Electric motor or VVT-iE, on the intake camshaft, and VVT-i on the exhaust camshaft. A variable cooling system and a fully variable oil pump further improve engine efficiency.
The total system horsepower output is 243. This hybrid got 35 mpg across the board: in the city, on the highway and combined. And it had a 600-mile range. That is a 24 percent improvement over the previous generation Highlander Hybrid. The automaker said it still delivers good acceleration, power and responsiveness. It also comes in front-wheel drive or all-wheel drive. But we could not judge for ourselves since they did not bring any hybrids to this very brief and short ride & drive.
Highlander's new look is subtle but bold. The Toyota badge has sprouted wing-like extensions that extended across the top of the grille. The burnished look is rounder but bolder. There was a crisp accent line at the bottom of each door that extends up and over the rear wheels. Staffers here said it comes from Toyota's new sports car, the Supra.
The 2020 Highlander had driving modes: normal, eco, EV (electric Vehicle on the hybrid) and sport and it had sequential shifting. It could analyze your daily driving, it had three different all-wheel-drive systems, one had torque vectoring and it had hill start assist.
Connectivity offered Amazon Alexa, Android Auto and Apple CarPlay. Of course, there was satellite radio, voice controls, a navigation system, Wi-Fi, bird's eye camera system that operates at under 7 mph, five connected services, an available 1,200 what premium audio system, a 10-inch head-up-display and five USB ports.