Running Back David Johnson Holds First Press Conference As A Houston Texan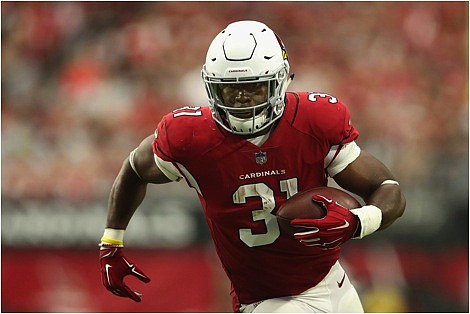 Newly acquired running back David Johnson met the Houston sports media for the first time on Friday. Just like head coach Bill O'Brien did a day earlier, Johnson talked to reporters via the Zoom app from his home.
The former Arizona Cardinals running back shared his reaction on when he found out that he had been traded to Houston for wide receiver DeAndre Hopkins and draft picks.
"My initial reaction was I was very excited," Johnson said. "I was on vacation with my family, my wife, and kids, and we were very excited – a new beginning. Like I've been saying, the Texans are always in the playoffs, a very successful team, and then they have weapons all over. I was very thankful for talking to Bill O'Brien and the way he wants to utilize me."
The 28-year old Johnson had an All-Pro (First Team) season with the Cardinals back in 2016 where he had a combined for over 2,118 yards from scrimmage and 20 touchdowns. Injuries have plagued the Pro-Bowl running back for the last three years and have led some NFL executives to call him "injury prone," a moniker he is looking forward to changing once he takes the field for the Texans.
"I think that really is a big misconception (the injury prone label)," Johnson responded when asked about his durability. "Especially in this league. It's football. Guys get nicked up, get injuries all the time, so you can't really predict what's going to happen. I know that I'm going to do everything that I can to be ready and keep my body as healthy as possible."
Most fans in Houston were not happy when general manager Bill O' Brien shipped fan favorite DeAndre Hopkins to Arizona back in March. The majority of the Texans faithful had come to love "Nuk" due to the fact that he always gave 100% every time he touched the field without complaint. That leaves Johnson with some "Huge" shoes to fill as he will always be associated with Hopkins in their minds.
"You can't please everyone," Johnson expressed to the media. "I've learned a long time ago, how to just ignore that and keep grinding, and keep making sure that I'm as prepared as I can be for Houston. I'm excited that Bill O'Brien came out and got me, and I'll be ready for them once I get there."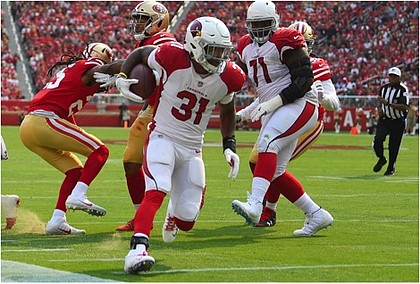 In order to prepare for the season, Johnson has been watching a lot of Texans games including the 2019 AFC Wild-Card victory over the Bills. One thing that stood out to Johnson about his new offense was the play of quarterback Deshaun Watson and the effective use of his backfield mate, Duke Johnson. With his ability to line up as a slot receiver as well, Johnson becomes a dual threat weapon for new offensive coordinator Tim Kelly. His 10.7 yards per catch average for his career should also make life easier for Watson and the receiving unit.
Johnson and his wife Meghan, who were college sweethearts, are well known throughout the state of Arizona for their philanthropy work through their non-profit organization, Mission 31 Foundation.
According to their mission statement. The organization provides opportunities, support, and resources to seriously ill children and their families by offering daily support and life-changing experiences.
Johnson, a third-round pick in the 2015 NFL Draft out of Northern Iowa says they plan on doing the same thing once they get to Texas.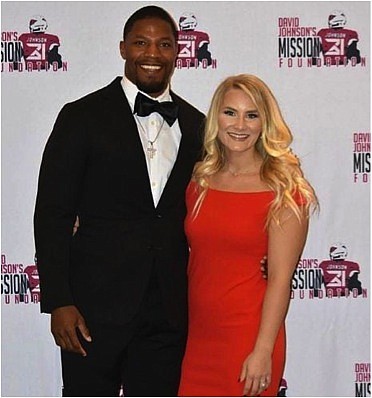 "We were already planning on trying to do something effective to help out the pandemic for Houston and the state of Texas," Johnson said. "It's been really big for me and my wife just because for me in my upbringing, I had so much help surrounding me, molding me in who I am today."
"I've heard nothing but good things about Houston and that community, the team, the fans. So, I'm excited to get down there hopefully pretty soon, and me and my wife can start helping out the community as fast as possible.