HOUSTON TEXANS Go Into NFL Draft With One Position Solidified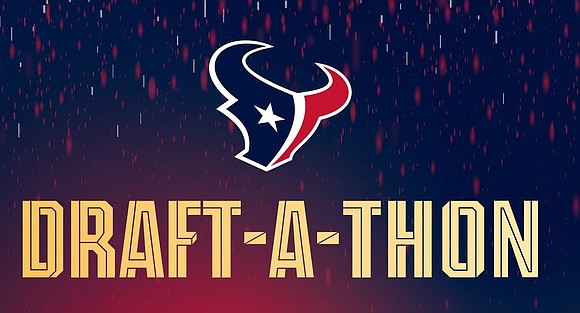 Over the past couple of years, there have been two things that didn't go together when Texans fans talked about the upcoming season. Consistency and the offensive line were never men- tioned in the same sentence. Well that has changed and no matter what the feel- ings are towards the moves head coach and General Manager Bill O' Brien has made this offseason, one thing he has finally solidified is the offensive line.
As the 2018 NFL season con- cluded, the Texans organization had a major issue that needed to be addressed and that was better protection for their superstar signal caller, Deshaun Watson. He was sacked a league high 62-times that season which represented the most sacks a quarterback had taken since Jon Kitna with 63 in 2006. No Texans quarterback since David Carr (76 sacks in 2002 and 68 in 2005) had been sacked that many times in one season.
All that changed in 2019 as coach O'Brien made a conscious effort to protect Watson by drafting offensive lineman Tytus How- ard and Max Scharping and trading for Pro-Bowl left tackle Laremy Tunsil. The moves paid off as the sacks on Watson dropped tremendously from 62 to 44. That also led to the offense being ranked in the top ten in yards per carry (8th) and rushing yards (9th).
Some will attribute the Texans' success to acquiring Tunsil from Miami and the improvement at the center po- sition by Nick Martin, but most of the credit belongs to offensive line coach Mike Devlin as he helped the two rook- ies (Howard and Scharping) become solid building blocks for the offensive line.
Drafted in the first round with the 23rd selection, Tytus Howard proved all the naysayers wrong in his limited action at right tackle. He started eight games before being placed on injured reserve in November for a torn MCL. The Pro Football Writers of America selected Howard for its 2019 All-Rookie team as he only allowed Watson to be sacked two times from the right end when he was in the lineup.
Max Scharping, a second round pick out of Northern Illinois where he didn't miss a snap as a senior, played in all 16 games and started 14 at left guard for the Texans. By only allowing three sacks in 938 offensive snaps played the Texans may have finally added some youth and stability to the team.
It is safe to say that coach O'Brien has solved the issues at offen- sive line and once the team signs Tunsil to a long-term deal the team then can move towards a contract extension with Watson. With the re- cent additions of wide receivers Randall Cobb and Brandin Cooks to go along with running back David Johnson, coach O'Brien feels he has just what it takes on offense to get the team to the next level.
Unlike past years, the Texans will now go into the draft needing to ad- dress one major need and that is to help the defensive side of the ball. General Manager O'Brien will look to improve the defensive line and cornerback posi- tion due to some veteran players they lost due to free agency. If he continues the trend of picking talent like Howard, Scharping, cornerback Lonnie Johnson Jr., and defensive end Charles Omenihu. The Texans should be well equipped going into the 2020 season.