Underdog Mentality
Texans Make DT Ross Blacklock Their First Selection In The 2020 NFL Draft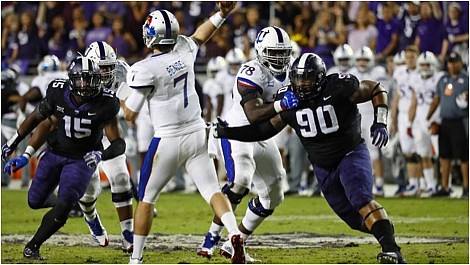 The Houston Texans filled a desperate need on Friday by selecting defensive lineman Ross Blacklock out of TCU with their 40th overall pick in the 2020 NFL Draft. The former Big 12 Co-Defensive Freshman of the Year for the Horned Frogs had a very productive 2019 season where he earned First-Team All-Big 12 honors while controlling the defensive side of the ball for TCU.
Blacklock is pretty familiar with the Texans as his younger playing days were at Elkins High School, where he patterned his game after a future Hall of Famer that is now his teammate, J.J. Watt.
"He's an idol of mine," said Blacklock. "I try to mirror my game after his, so it's going to be surreal just being able to play next to a legend like that. I just want to be a sponge and gain as much knowledge as I possibly can and continue to grow."
The Freshman All-American suffered a major setback in 2018 when he tore his Achilles tendon during a preseason practice. He was held out the entire season and says that time allowed him to become a better football player.
"Just learning, just being more of a football player when my time when my time is out, being more of a student of the game," Blacklock said in his post-draft press conference. "I spent more time in film even though I couldn't be there most of the time because due to my injury I couldn't walk for a while. Once I got back I was always active with the guys, I was always watching film with them as if I was still playing that season. Missing out on that season helped me mentally develop as a player."
It is that mentality that has pushed Blacklock to never give up no matter how stacked the odds are against him. Growing up the son of a legend and pioneer in the African-American community comes with certain expectations. His father, Jimmy Blacklock, was the first African-American to be named a starter on the basketball team at the University of Texas during the 1970-71 season. The elder Blacklock also toured with the world-famous Harlem Globetrotters.
"My dad, he's a pioneer, he's a walking legend," said Blacklock. "He doesn't talk about it as much as I do. I'll be the first person in my family to be in the NFL, so this is a pretty good start for me."
The 2019 Honorable-Mention Big 12 Defensive Lineman of the Year is the first defensive lineman taken by the Texans since 2016 when they selected D.J. Reader in the fifth-round with the 166th overall pick. Blacklock was one of the few college players that was actually brought to NRG stadium to work out for the Texans before the coronavirus pandemic shut down day-to-day operations. Head coach Bill O'Brien and the coaching staff was very impressed with what they witnessed and hoped he would still be available by the time they picked in the second-round.
"That was big," coach O'Brien said responded about being able to get Ross Blacklock in the building. "We were able to do a little workout with him, we were able to interview him. Really important."
Football isn't the only the former Horned Frog is good at. He developed a brand called "Underdog Mentality" that describes exactly who and what he is all about.
"Trust yourself as a player, believe in yourself and let your work speak for itself and for the results, and stuff like that," said Blacklock. "I wanted to create something for athletes that they can relate to. Everybody has potential. The sky isn't the limit, you can go beyond in how high you want to go in life. That's kind of what it represents."
Welcome Home Mr. Blacklock.