Best Unkept Secret
Texans Sign Undrafted Free Agent Scottie Phillips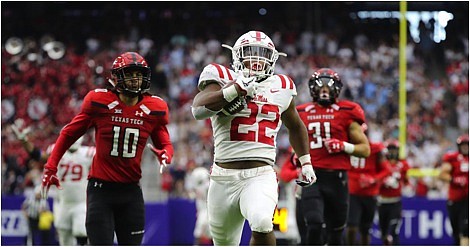 The Houston Texans signed undrafted free agent running back Scottie Phillips at the conclusion of the 2020 NFL Draft. The former Ole Miss standout will be a steal if he can contribute on special teams while learning the Tim Kelly led offense.
Phillips was rated the No.1 junior college running back in 2018 coming out of Jones Community College in Mississippi helping lead the Bobcats back to the playoffs after a four-year hiatus. His immediate impact was felt on the Ole Miss campus, as he rushed for 928 yards and scored 12 touchdowns while starting 11 games. He was SEC Offensive Player of the Week after having a stellar debut against Texas Tech with 204 yards rushing and two touchdowns.
Minor injuries and new talent in the backfield, hampered his 2019 campaign and limited him to just 542 yards rushing. Phillips was 1 out of 30 college players invited to the NFL Combine after competing in the NFLA Collegiate Bowl having a 5.7 yards per carry average.

Phillips will need to improve his pass blocking ability if he plans on seeing any action behind Johnson (David) & Johnson (Duke). He will have to also compete on special teams, which he would be a good fit for with his speed and strength (29 reps on the bench press at the combine), he has a very good shot at making the roster.
The Texans may have stumbled upon a gem.
Measurables:
Height: 5-foot-8
Weight: 209 pounds
Hand: 8 1/2"
Arm: 29 3/8"
NFL Combine Results:
40 Yard Dash: 4.56 seconds
Vertical Jump: 30.0 inches
Bench Press: 29 reps
Broad Jump: 114 inches
3 Cone Drill: 7.4 seconds
20 Yard Shuttle: 4.53 seconds