New Toys
Watson is excited about the new offensive weapons the Texans acquired in the off-season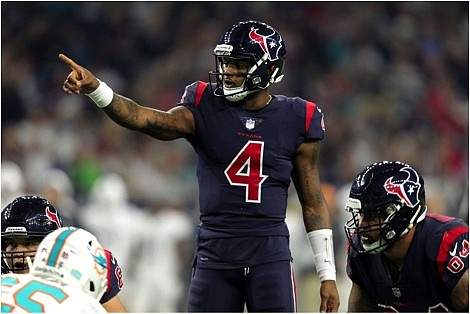 This hasn't been the typical off-season for Texans franchise quarterback Deshaun Watson. In the midst of dealing with a global pandemic caused by COVID-19 and pending contract negotiations, he learned his number one wideout for the last three years, DeAndre Hopkins, was traded to the Arizona Cardinals after a workout.
"It was just of course out of the blue – different," said Watson. "I wasn't expecting it, but like I said, that's just the way the business goes. That's something that I have pretty much no control of. The organization had to do what they had to do, and D-Hop – he had to do what he had to do. We still have a relationship, we still have a bond, but it was just different of course."
Watson spoke with the media about an array of things as he heads into his fourth season as the Texans signal caller. He is super excited about getting to work with some of the new offensive weapons that head coach/general manager Bill O'Brien acquired for him this past off-season.
Houston received former All-Pro running back in David Johnson for Hopkins. They also added wide receivers Brandin Cooks and Randall Cobb to go with the dynamic duo of Will Fuller V and Kenny Stills to give Watson options all across the field.
"I've worked out with them a couple of times over the summer," Watson said. "We've kind of been making sure that we're picking the right time to work out and doing the right things and taking the precautions that we need to make sure everyone is staying safe."
It's never easy replacing a wide receiver like Hopkins who has been First Team All-Pro the last three years with 4,115 yards receiving and 31 touchdowns, but Watson believes that Fuller will do just fine stepping into the number one spot.
"Will's going to ball out," said Watson. "Will's going to be one of the best receivers in the league. He came back a lot stronger, a lot faster. Will's really good, very confident in himself and what he did over the offseason."
Watson wanted to make sure that everyone knew he has a great relationship with coach O'Brien and Hopkins and harbor no negative feelings towards the organization for the trade.
"I didn't know the whole background story on what exactly happened," Watson reiterated when asked why he hasn't publicly said anything about the off-season transaction. "That's their (Hopkins and O'Brien) business and that's their lane. I'm not going to step out of my lane and get in that. But I know that me and Hop have a great relationship. I know that me and OB have a great relationship. That's their business and I'm not going to get into it."