America's Problem: Protecting Students in Schools
School administrators across the nation are grappling with questions about one of the toughest decisions they have had to make in their educational careers, "How can they safety educate students amid a global pandemic?" Beyond student safety, they also have to consider the safety of faculty and staff. Trying to answer that one question has led to more questions further complicating an already difficult decision. Deciphering the best course of action is critical in stopping the spread of COVID-19, preserving human life, and continuing the education progress for students.
When COVID-19 began to hit the U.S. hard at the beginning of this year school districts were caught off guard, as was the entire country. Students' school year was abruptly stopped, as everyone was quarantined to their home. After a couple of weeks of isolation, educators knew something had to be done to continue the education process for students. School at home became the new norm as kitchen tables went from places to have a meal to a place where learning took place. Educators had to adjust from teaching a room full of children to teaching a screen full of pupils virtually. Students had to learn how to eliminate the distractions of home to focus on online learning. Parents had to juggle their day job with that of being their child(ren)'s principal, teacher, lunch lady, and support staff. It was a tough transition for all but it was only temporary, right?
How wrong was our thinking? No way did any of us know that we would still be in isolation talking about this disease that seems to pop up out of nowhere nearly six months later. Positive cases of COVID-19 are still rising in some states. People are still dying from the coronavirus. We know how to stop the spread but some refuse to follow guidelines. The curve has not flattened. What we thought we knew about the disease is proving that some of it may have been wrong. Children are not as immune from being infected with COVID-19 as some once thought. We do not, as a country, have control of this thing. Parents are scared. Students are scared. Teachers and faculty are scared. Administrators are scared and don't know what is the best decision to keep everyone safe from harm.
How do you prepare a classroom that once held 40 students to only hold 20? Then where do you put the other 20 students when you don't have enough classrooms? How do you keep the teacher safe that has to educate that room of students? How do you maintain the social distancing of students when that is not their nature? And excuse the pun but how do you teach one without reaching one safely in a physical setting? Question and after question arises. Houstonians are fortunate to live in a city with the nation's seventh-largest school district. Currently operating under the direction of Interim Superintendent Grenita Lathan, many look to HISD to see what they should do. After many discussions, research, and reviewing the recommendations of the Center for Disease Control and the Texas Educational Agency, Houston ISD has developed a plan.
The 2020-2021 school year has been pushed back to begin virtually on September 8, 2020, and continue for the next six weeks until October 16, 2020. Students will return to campuses for face-to-face instruction on October 19, 2020. Understanding the concern of parents, HISD has given the parents the right to choose whether their child remains in a virtual environment or return to campus for the fall semester. Parents also have the option of changing their minds on which learning environment works best for their child after the nine-week intervals in the semester. Those parents wanting their child to learning virtually the entire semester must complete a virtual class and sign an agreement to the education of their child.
HISD's plan was developed from a collaboration of the district's Communicable Disease Plan Task Force and the Academics team. They wanted to create a plan to uphold proper safety measures while continuing students' education. When campuses do welcome students, teachers, and staff back all will undergo daily temperature checks and entry screenings, wear masks and other face coverings, wash their hands frequently, and practice staying six feet away. Plus nurses, custodial staff, food service workers, and special education staff will be required to wear gloves.
HISD has gone even further to reconfigure classrooms where there will be only one teacher for every 10 students. To maintain this format, students will have flexible schedules where they will learn in-person and virtually.
HISD's plan is on track with some of the largest school districts in the nation. Gov. Andrew Cuomo of New York said he would not support the push to reopen schools until the city has an infection rate above 3%. The district in Montgomery County, Maryland will be online for the entire fall semester. Most schools are starting the school year off virtually. Of course, all these plans are temporary as the nature of COVID-19 could rapidly change plans.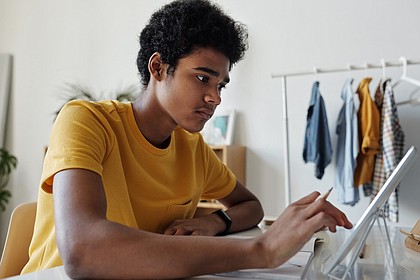 But will this work?
Many school districts that have already gone back-to-school are seeing problems early on. After classes began on July 27th in one school in the Corinth School District in Mississippi, over 100 students had to be quarantined when six students and one teacher tested positive for COVID-19. Since then the governor of Mississippi has now issued a mandatory mask mandate.
A Georgia school district in Gwinnett County has already had 260 employees infected with COVID-19. And let us not forget the 51% of children attending a Georgia summer camp that were diagnosed. Also in Georgia, 20-second graders and their teacher had to be quarantined after a student tested positive. Then there is little Kimora Lynum who became the youngest person in Florida to die from COVID-19 at the age of nine-years-old.
Moving on to Indiana to the case of exposure that could have been prevented. One family allowed their Greenfield-Central Junior High School student to go to school knowing that the child had pending COVID-19 test results. The family told none of the school administrators or teachers are the child's health concerns. Unfortunately, the child tested positive. Following that incident, two football players at two different Indiana schools tested positive. These cases make educators, parents, and students very nervous about going back-to-school.
Despite what has been happening thus far, the Trump administration is supportive of schools reopening. Dr. Anthony Fauci, the nation's top medical expert, agrees schools should reopen for the psychological and nutritional benefits that students crave. However, Dr. Fauci cautions that schools can only reopen if safety is made a top priority.
Top priority means wearing masks at all times, washing your hands for 20 seconds or more, and staying six feet apart from others. It means disinfecting frequently touched areas several times a day. It means staying at home if you exhibit any signs or symptoms of the disease. It means caring for yourself and others by doing what is right and safe.
In order to get to any sense of normalcy and enjoy life on the outside, we will need the cooperation of all Americans. Please, America, let's get it together for our future.