Lloyd Austin's Historic Nomination Adds To President-Elect Joe Biden's Diverse Cabinet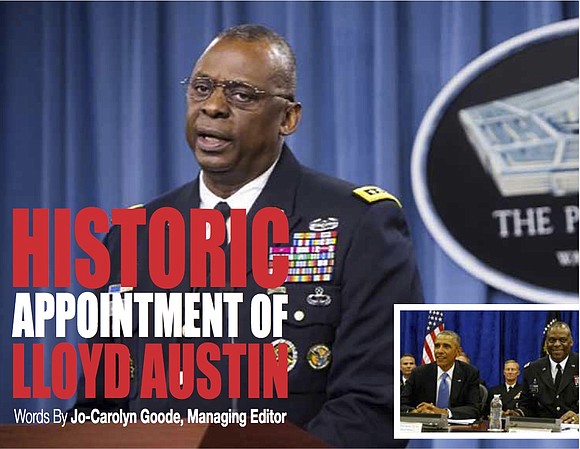 Keeping true to his word of creating a cabinet that is reflective of America, President-elect Joe Biden has named retired Army general Lloyd Austin as his nominee as the Secretary of Defense. Lloyd's confirmation would break barriers as he would be the first Black Secretary of Defense.
Austin has a storied career that is full of awards, acts of bravery, and stellar leadership. President Obama noted the Silver Star of valor recipient's leadership in the withdrawing of 150,000 troops from Iraq.
During the official announcement of Austin, Biden remarked on his heroism. "When the Islamic State emerged as a terrorist threat in Iraq and Syria, endangering the security of America's people and allies, President Obama and I turned to Austin, who then led U.S. Central Command. He designed and executed the campaign that ultimately beat back ISIS, helping to build a coalition of partners and allies from more than 70 countries who worked together to overcome a common enemy."
Biden has all the confidence in Austin's ability to lead calling him "a true and tested soldier and leader." Biden said in an op-ed published by The Atlantic, "In his more than 40 years in the United States Army, Austin met every challenge with extraordinary skill and profound personal decency. He is a true and tested soldier and leader. I've spent countless hours with him, in the field and in the White House Situation Room. I've sought his advice, seen his command, and admired his calm and his character. He is the definition of a patriot."
Biden maybe confident that Austin can do the job of Secretary of Defense but the Democratic Party not so much. That will prove to be a big problem since Austin will need a congressional waiver to serve in the civilian post. Law dictates that military must be out of service for at least seven years before taking any office. Austin has only been retired for four years.
"I would not be asking for this exception if I did not believe this moment in our history didn't call for it -- it does call for it -- and if I didn't have the faith I have in Lloyd Austin to ask for it," Biden said.
This move would not be something that has not been done before as retired Marine officer Jim Mattis received a waiver to serve under the Donald Trump administration.
"I know this man. I know his respect for our Constitution. I know his respect for our system of government. So just as they did for Secretary Jim Mattis, I ask the Congress to grant a waiver for Lloyd Austin," Biden said.
If all goes as plan Austin is well aware of the duties of the job and is ready to begin working. "I come to this new role as a civilian leader -- with military experience, to be sure -- but also with a deep appreciation and reverence for the prevailing wisdom of civilian control of our military," he said.
"I respect and believe in the importance of civilian control of our military and in the importance of a strong civil-military working relationship at DoD--as does Austin," Biden wrote. "We need empowered civilians working with military leaders to shape DoD's policies and ensure that our defense policies are accountable to the American people. Austin also knows that the secretary of defense has a different set of responsibilities than a general officer and that the civil-military dynamic has been under great stress these past four years. He will work tirelessly to get it back on track."
But before Austin can get to work he has to get Democrats on his side. Democrat Sen. Richard Blumenthal has already stated his opposition to the waiver. However, Sen. Jack Reed has a more positive feel towards the waiver and wants to wait to allow Austin to explain himself before making a decision.
Meanwhile, Biden's transition team is not wasting any time in reaching out to the House and Senate about the waiver for Austin. He is already scheduled to begin talks with several legislators ahead of the confirmation process.
Austin's appointment follows a number of Biden's nominees to add diversity to the cabinet.
Adewale "Wally" Adeyemo was nominated to be the first Black Deputy Secretary of the Treasury.
Cecilia Rouse was nominated to be the first woman of color to chair the Council of Economic Advisers.
Neera Tanden was nominated to be the first woman of color and first South Asian American as Director of the Office of Management and Budget.
Karine Jean-Pierre will serve as the principal deputy press secretary.
Symone Sanders will serve as senior advisor and chief spokesperson for the vice president.
Ashley Etienne will serve as the communications director for the vice president.
Elizabeth Alexander will serve as communications director for first lady Jill Biden.
Linda Thomas-Greenfield was nominated to be the US ambassador to the United Nations.
Carlos Elizondo was nominated to be the first Hispanic American White House Social Secretary.
Alejandro Mayorkas was nominated to be the first Latino and immigrant as Secretary of the Department of Homeland Security.
Xavier Becerra was nominated to be the first Latino to lead the Department of Health and Human Services.
Pili Tobar will serve as deputy White House communications director.
Despite all this diversity, Biden is being pressured to name even more people of color to his cabinet in top positions by the National Association for the Advancement of Color People (NAACP).
The NAACP wants Biden to create a civil rights czar calling the position a "National Advisor on Racial Justice, Equity and Advancement."
President-elect Biden's future appointments are closely guarded. He continues to press forward to keep his promise of having the most diverse cabinet in American history.