It Is What It Is
Another late game miscue costs the Texans a victory at home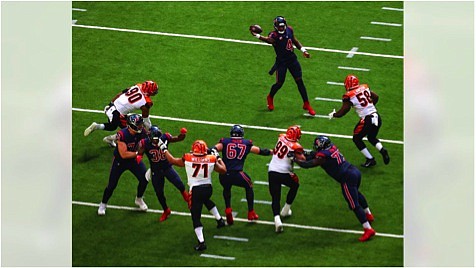 In 1982, American R&B singer Richard "Dimples" Fields released the biggest hit single of his career titled, "If It Ain't One Thing, It's Another." The chorus of the song literally sums up the last four weeks of the Houston Texans season.
"I'm making this song for all the people who at times in their lives feel bad You know when you feel like even your blues have blues If it ain't one thing it's another"
On Sunday, Houston lost their third game in the last four weeks by turning the ball over late in the fourth quarter with a chance to win or tie the game. Houston (4-11) lost to the Cincinnati Bengals (4-10-1) by a score of 37-31 at NRG stadium after Texans quarterback Deshaun Watson was hit during a passing attempt that forced the ball to come out of his hands. The play was ruled a fumble on the field and the Bengals recovered to basically seal the game.
"Fumbles that occur at any point in the game, you don't like them, but when they occur in situations when you have a chance to win, I think that's a double whammy in that case," said Texans interim head coach Romeo Crennel. "Like you say, we've had several of those this year. If we were able to make the plays, then the outlook on the season would be different, but we didn't make the plays, and so it is what it is."
It has been a very good week for the Bengals who beat divisional rival Pittsburgh Steelers on Monday and won their first road game in two years by defeating the Texans, which also counted as the longest winning streak they have had this season.
Despite another strong performance by Watson, who finished the game with 324 yards passing and three touchdowns to break former Texans QB Matt Schuab (29 in 2009) team single season touchdown record with 30, it was the Texans defense that let them down. Bengals backup quarterback Brandon Allen threw for a career-high 371 yards and two touchdowns to lead Cincinnati to victory.
Allen's performance was not received well in the Texans locker room, which led defensive end J.J. Watt to release his frustrations surrounding his team's effort not just on Sunday, but the entirety of the season.
"We played horrendously," said the future NFL Hall of Famer. "It's harsh, but that is the fact of what we did today, and it is extremely frustrating."
When asked about ending the season on a positive note, Watt did not hold back or mince words on his feelings towards certain things he disliked about the Texans this season.
"We're professional athletes getting paid a whole lot of money," said Watt. "If you can't come in and put work in in the building, go out to the practice field and work hard and do your lifts and do what you're supposed to do, you should not be here. This is a job."
Houston plays its final game of the season at home this Sunday against the Tennessee Titans.