What to Watch in 2021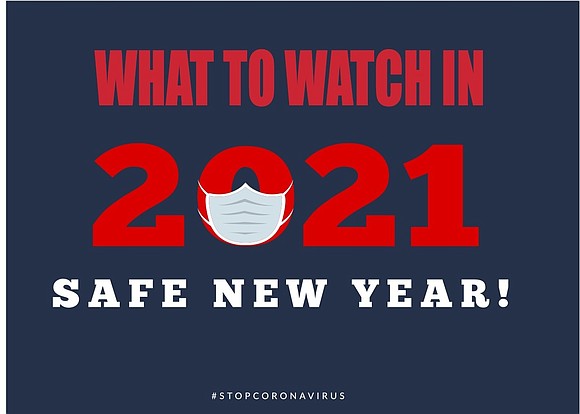 Leave all the events of 2020 in 2020. Don't look back. Just look forward and push toward to the future of 2021. This is the year where we all will transform in one way or another. Our world will also change with us. This is why we must keep our eyes on the ones leading change. Take a look at a few things and people to keep a lookout for in 2021.
Lynn Clouser
Some residents in Missouri City have long complained that their concerns and grievances have fallen on deaf ears with former city councilman Chris Preston in office, Well, come 2021, someone will finally hear them. Clouser won the runoff election against Preston on a campaign to be visible, accessible, trustworthy, responsive, and transparent. Beyond this, Clouser also promised to support small businesses, uphold the city's diversity and safety. She will attend HOA meetings, community events, and town halls to ensure that she leads in the way Missouri City residents want her to do so. It is fair representation for all.
HBCUs
Christmas seemed like a yearlong holiday for HBCUs as they collectively received $348 million in donations with Texas universities Texas Southern University and Prairie View A&M University receiving $25,000,000 and $57,850,000 respectively. Historically Black Colleges and Universities (HBCUs) have all received the largest donations in their university's history. Many of these schools have earmarked funds to go toward endowments to fund scholarships for students, graduation and retention programs, and other programs to promote the education of those at HBCUs. Various philanthropists like Mackenzie Scott, Reed Hastings, Patty Quillin, and other organizations are giving donations to HBCUs. It will be great to see how all these donations benefit students.
Black Lives Matter
Last year among the top things killing Americans like COVID, cancer, and etc., ranking high was just being Black. Numerous Black men and women were senselessly killed around the country by police officers. Whether police officers felt threatened, ill prepared, misread the situation, or whatever many cops were shooting first and assessing the situation last, calling for Americans to ask for police reform. Mayor Sylvester Turner created a 45-member task force to develop tough recommendations to transform the police department to bring about accountability, transparency, and clarity. When this plan gets solidified it will definitely reach the desired goal of building trust between the community and officers for better relationships and ensuring that Black lives matter.
Houston ISD School Board
The Houston ISD School Board has been stricken with problems for a long while. Hence, why a Texas Education Agency takeover looms over the board. The strife caused national attention especially when the rate of student failure almost reached 50%. The board showed their true colors and the source of why they were failing students, they couldn't get along due to the great brown vs. light skin debate. It was clear that race played a major factor in decision making when the voted to exclude Dr. Grenita Lathan from consideration for the permanent role of superintendent. The vote was racially divided despite, the success the district has seen under the leadership of Lathan. The board is one to watch as they continue the search for the next HISD Superintendent.
Houston Rockets
All eyes are on the Houston Rockets with a specific focus on James Harden and where he will go. His alleged actions of being late to training camp, ruled out of the season opener, and an appearance at a local nightclub are glaring signs that he is ready to leave them team. Despite everything that is going on, Harden is still racking up points every time he is on the court. Also, getting some stares is the team's new head coach Stephen Silas. As the 14th head coach for the franchise, Silas comes with a wealth of experience with 19 seasons as an assistant head coach under his belt. His most noted success was with the Dallas Mavericks where he was tasked to improve their offense. He did so in a history making way helping the team have the highest offensive rating in NBA history for 2019-2020. Houstonians are on edge to see how he will lead the home team.
Houston Texans
Former head coach Bill O'Brien is rumored to have created a toxic environment in the Texans franchise. Players often commented on how unprofessional the organization was. Romeo Crennel was a welcomed sight as interim head coach since he was well liked, had experience, and calmed down the situation. However, he was ruled out earlier on being named the head coach likely due to his age. He is 73 and is the oldest head coach in the league. Three names have been circulating as top candidates – Brian Schottenheimer of the Seattle Seahawks, Jim Caldwell of the Detroit Lions, and Eric Bienemy of the Kansas City Chiefs. Bienemy is said to be the lead contender with backing from a lot of the highest paid players including Deshaun Watson.
COVID-19 Vaccine
The long awaited vaccine is here but its presence does not remove the scare of COVID-19. Some are anxiously waiting their turn to get vaccinated and then there are others who are dead set against getting the shot. This is the case in most of the Black community who have a long history of distrusting the healthcare system. In addition, with the quickness that this vaccine was made and approved, some question its safely. If everyone does not get the vaccine, COVID-19 could prolong in our mist a little longer. President-elect Joe Biden has already predicted that we have not seen the worst of COVID-19 on our world. Medical professionals hope the Black community will trust the safeness of the vaccine with the public vaccinations of former president Barack Obama, Vice President-elect Kamala Harris, and Black medical professionals.
Joe Biden and Kamala Harris
Most of the world is on pause waiting for January 20th when Joe Biden takes the oath of office to become the 46th President of the United States. Then we will all take a deep breath as we watch in awe as the first African American woman is sworn into the highest office that any woman has ever held. When Kamala Harris is officially the Vice President of America that will be the ultimate display of Black Girl Magic. We are on pins and needles in anticipation of what the Biden administration will be. Biden is already making sure he has the most diverse administration putting African American in high ranking posts and even said their will be an HBCU office in the White House. He is known to get work down across party lines. We will look to Biden and Harris to see if he can turn our world around from the debacle of the Trump administration.
Harris County Disparity Study
Harris County Commissioner Rodney Ellis knew minority owned businesses were getting short changed in getting support for business contracts from the county but he didn't know how wide the margin was until the disparity report he requested in 2018. The two year long study showed for every $100 a private owned business received, a Black owned business got a mere 50 cents. This was unacceptable on all levels. Ellis wanted immediate action. The Harris County Commissioners Court approved an affirmative action program and recommended an Office of Economic Opportunity be created to build a blueprint for equitable contracting. In 2021, we shall see if minority businesses start getting their just share.