Ann Arbor, Michigan: A Repeatable & Enjoyable Experience
Located just 30 minutes to the West of Detroit's Wayne County Airport is a Vibrant and Energetic City known as Ann Arbor, Michigan. The Ann Arbor area, home to the University of Michigan, is an urban oasis: an approachable, friendly town with big city sophistication; a teaching hub and epicenter for education nestled in a peaceful Midwestern setting. Founded in 1824, Ann Arbor is a part of Washtenaw County which includes surrounding cities; Ypsilanti, Chelsea, Milan, Saline, Dexter and Manchester. Combined, the county has a total population of nearly 368,000 people and together they are thriving in every way possible. Ann Arbor boasts over 100 arts and entertainment venues from community clubs to fine arts museums and many more. With the University of Michigan, Ann Arbor can easily be described as a small town with big city appeal. While also being walkable friendly, the geographically small town makes it easy for visitors to explore the famous arts, culture and food venues with a rich mix of diversity and cuisines. If you are planning your next friends or family trip and you would like a place that is enjoyable; then Ann Arbor, Michigan is a place where you should consider heading. Join me as share my experience with you during my time in Ann Arbor!
Accommodations:
Nothing says 'cozy' like the accommodations at The Graduate Ann Arbor in Ann Arbor, Michigan. Located right across the street from the University of Michigan this boutique 4-star hotel includes the arts, counterculture and the political scene of this famously progressive community that speaks to its storied history. With its unique touch, The Graduate finds a way to incorporate aspects of the city in its details throughout the property. With a stay at The Graduate Ann Arbor, you will be centrally located in the city while being steps away from all that the city has to offer.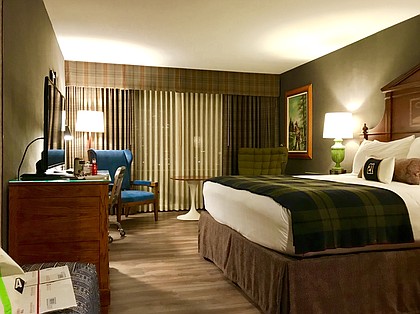 The Graduate Ann Arbor – King Bedroom
Because 'bigger is always better', I was lucky enough to spend 5 nights in one of the 'Big ole' King Bedroom' suites. Perfect for one or two travelers, The Graduate King room includes a comfy king bed, a workstation and huge lounge chairs for more space to stretch out. Decked out with nods to Ann Arbor, this room is an inviting, familiar retreat that is distinctly The Graduate. The lobby invites you with hand painted mosaic patterns that sweep across wooden floors, handsome millwork, leather clad columns and you can not forget to mention the huge lobby table that invites you to gather around and lounge with a grand center staircase. A perfect setting for a nightcap with libations from The Allen Rumsey Cocktail lounge!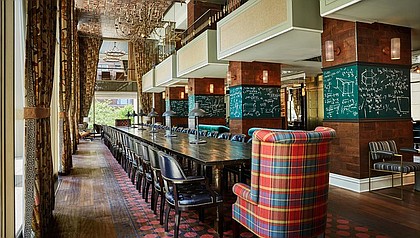 Ann Arbor's Great Adventures:
Ann Arbor is a great destination that is home to excellent museums, beautiful parks, sports events and a thriving performing arts scene. The city is well known for its beautiful downtown that offers an array of restaurants, shops, cafes, and boutiques. Although there are tons of things to do in Ann Arbor three of my favorites while visiting were the Yankee Air Museum, The Big House and the University of Michigan Museum of Natural History. For any aviation geeks, The Yankee Air Museum is your safe haven. Located at Willow Run Airport on the outskirts of Ann Arbor, The Yankee Air Museum is home to some of the finest aircraft artifacts and is a great place to touch, feel and interact with some of the most amazing aircraft throughout aviation history.