Consistency and Great Service Makes Grotto a Winner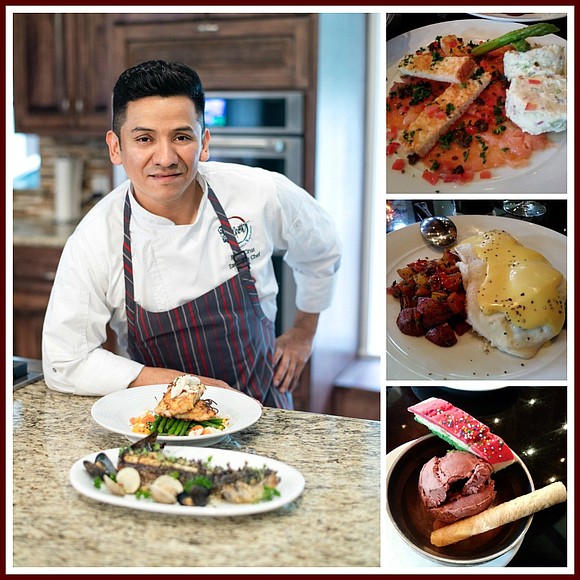 A lot of people boast about their favorite places for dining, and we all have proclaimed that "our" place has the best of whatever dish is the specialty. In my experience, there are many venues that can be considered the absolute best at what they serve on the plates. This is true because of two main factors: 1) consistency and 2) great service.
Since 2012, I have made several visits to Grotto, specifically the 4715 Westheimer location, and every visit was exceptional. My favorite time to visit is during the opening hours of 11:00 a.m. and 2 p.m. The brunch options are plentiful; the Frozen Peach Bellini is one of the most flavorful, well-balanced, and refreshing cocktails that I've tasted. It's tangy, sweet, cold, and subtly aromatic which pairs well with the food. They also serve Mimosas, Bloody Mary's, and an Aperol Pear Spritz.
For our brunch meal we decided on the Grotto Benedict and the Smoked Salmon. The Benedict consists of: Poached Eggs, Prosciutto Crisp served on a Pesto Crostini with Italian Hollandaise & Rosemary Roasted Potatoes. The Smoked Salmon is served with Red Potato Salad, Asparagus, Capers, and Truffle Bread.
The eggs were perfectly seasoned, the yolks were just the way we wanted, not too runny, but not hard. The sauce, herbs, and potatoes were full of flavor, without one flavor overpowering another. The salmon was thinly sliced, with a savory bite at the end.
However, the star of this plate was the potato salad, my guest and I grunted through every forkful of this tasty dish, which of course paired perfectly with the crispy asparagus and capers.

I've visited during dinner hours, and on days when the Executive Chef Ricky Cruz isn't there. Our dinner and service is remarkable during those times as well. We are always greeted with a smile, someone always asks us if we need anything and we always get our favorite server Rafael.
Check out what a Yelp Reviewer wrote: "Came here for my company's holiday dinner and I was skeptical because sometimes the super fancy places can be a slight let down, well this was not the case. Premium wine options for pairing of select meats such as veal, steak, or chicken. If you want a private dining experience for a large group, Grotto can surely accommodate."
Another reviewer wrote: "Our server Rafael was very charismatic, attentive and very sweet.
Find the Grotto nearest you: https://www.grottorestaurants.com/cuisine.asp