Remembering A Giant Amongst Us: Faye B. Bryant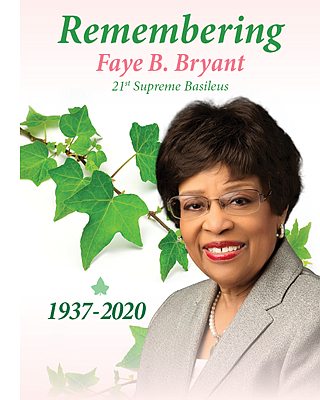 One of Houston's luminary figures in education and service to others has passed away at the age of 82.
Faye Beverly Bryant may have been small in stature but she was a giant among many. The Houston native's footprint in the city will be long felt after her death.
Born in 1937, Bryant was a proud graduate of Howard University. It was there that she was initiated into Alpha Kappa Alpha Sorority, Inc. through the Alpha Chapter. After graduation, Bryant returned to her hometown to earned her M.A. degree in counseling and guidance from the University of Houston.
Armed with two degrees Bryant began to pursue her passion of providing children the best education possible. She started out as an educator in Houston ISD teaching at Booker T. Washington High School and serving as a counselor at Bellaire High School. Bryant also served as Director of Magnet Schools for the Houston Independent School District. The pioneer of education would make history in Houston ISD as the first African American female Deputy Superintendent for School Administration in the largest district in Texas in 1998. After 42 years of service, Bryant retired in 2002 as Executive Deputy Superintendent for School Administration on the school board.
"The Houston Independent School District has lost a pioneering giant in the educational field. Ms. Bryant was a trailblazer who paved the way for educators like me and helped generations of students realize their full potential. We will forever be indebted to Ms. Bryant for her outstanding service, historic accomplishments and exemplary legacy. We offer our sincere condolences to her family, friends and community,"said Houston ISD Interim Superintendent Dr. Grenita Lathan.
While climbing the success ladder in her career, Bryant was also elevating her level of service. As the 21st International President of the first Black Greek sorority, Bryant sought out her vision to give women more power. Her administration's theme was P.O.W.E.R., Programs of service, Organizational impact, Women in global issues and Economic development and Renewal.
Highlights of her tenure included adding the Connection (Social Justice and Action) Committee to the programs within the sorority; introducing the cluster meeting concept leading to better communications between members and the regions; and
fortifying the Alpha Kappa Alpha legacy by bringing the regal construction of Alpha Kappa Alpha's corporate office to fruition. Bryant further grew the sorority's international presence with the initiation of the African Village Development Program in collaboration with Africare.
Before being at the helm of the sorority, Bryant served as International First Vice-President, South Central Regional Director, Chapter President and many other leadership positions according to the AKA1908.com website. Bryant was actively involved in the Alpha Kappa Omega Chapter in Houston.
Bryant was instrumental in establishing the Epsilon Lambda Chapter of the sorority on the campus of the University of Houston and serving as the graduate advisor to sorority members at Texas Southern University.
Bryant was given her flowers of appreciation while she was living. She was honored with the Africare Distinguished Service Award, Howard University's "Unusually Meritorious Leadership" award, election to the inaugural Operation Big Vote board of directors, and inclusion in the renowned "History Makers" series. Until her death was always thought of as a beloved president and inspiration to many.
"She was a true pioneer for education and the community with many notable firsts for the sorority and the Houston community. Her grace, faith, and strength will be remembered forever," said
Alpha Kappa Alpha Sorority, Inc. International President Dr. Glenda Glover.
A capitalized endowment through the AKA Educational Advancement Foundation, Incorporated. was established in Bryant's name to award scholarships. Her family is requested that donations be made to EAF in lieu of flowers.
Bryant's civic service didn't just stop with Alpha Kappa Alpha. She rose to be the
third National President for Top Ladies of Distinction, Inc. She also was a member of The Links, Inc.
Bryant leaves behind one sister, Barbara Solomon, and a host of others.
Bryant's life will be celebrated at the wake on Friday, February 28, at 7p.m. at the Wesley Chapel AME Church at 2209 Emancipation Avenue
and at the funeral on Saturday, February 29, at 10 a.m. at the Fountain of Praise Church at 13950 Hillcroft. Both locations are in. Houston.