AboutThatCar.com: 2020 Lexus NX 300h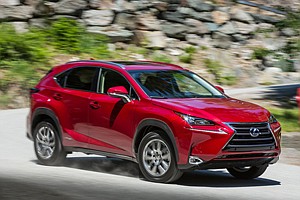 This review of the 2020 Lexus NX 300h started in Houston.
We landed and picked up the luxury crossover at airport parking and headed here, no stops, no visiting friends, no nothing. We got on state highway 59 South headed for I-610 East that would take us to I-10 East.
Houston is big, we're talking more than 600 square miles big. The fact that it took us roughly 20 minutes to get to the main road that would bring us here was a relatively quick ride.
But on this short stretch we learned that the Lexus NX 300h was quick enough to deal with Texas expressway traffic. It had a 2.5-liter hybrid engine which supplied a total of 194 horsepower. The engine was mated to an electronic continuously variable transmission and of course there were electric motors. Our test vehicle had all wheel drive.
We've never liked CVTs and we were not that thrilled with this one either. But it did the job. When we needed to do a quick lane change, the 2020 Lexus NX 300h had enough oomph to do it quickly.
The crossover had blind spot alert and it was needed. The closeness of cities is often transmitted to its expressways and it was no different in Houston. It was essential to know what vehicles were near and there were a lot of them.
Braking was good on the NXh. Cars and trucks were doing quick lane changes, evidently to get off at the right exit as well as to get on the right road. Not only were the regenerative brakes good but handling was better than average. There was no play in the steering, the crossover went where we steered it without hesitation.
Once we got to I-10 our thought was to set the adaptive cruise control and let the 2020 Lexus NX 300h take us here. But we hadn't counted on a bunch of really big, long haul trucks. And Thanksgiving traffic didn't start on Wednesday, it started on Saturday. This trip required concentration.
However, after we got away from metropolitan Houston, we set the cruise control and relaxed, a little. It took a while for us to learn what smart meant which was let the car slow itself down when a vehicle was ahead, rather than pressing on the brake and thus disengaging the system.
There were plenty of opportunities for what Lexus has branded All Speed Dynamic Radar Cruise Control to slow the car down, speed it up and keep pace with the stop and go traffic. In many ways, all need be done is to figure out a way for vehicles to steer themselves, a complicated undertaking, and autonomous cars are here.
We plugged in our iPhone and Apple CarPlay became available. We had set the NXh's navigation to get out of Houston and we were playing the vehicle's satellite radio. Though we left the navigation system on, we really did not need it. We've driven this route many times.
But as the trip wore on, we'd toggle between the sounds supplied by the NX's satellite radio and those we had on our iPhone. It was easy because controls for Apple CarPlay, as well as Android Auto, came up on the NXh's infotainment screen and the sound came through the vehicle's speakers. We also used our phone through Apple CarPlay to make a couple of calls rather than the vehicles Bluetooth phone system.