One-on-One With Queen of the South Star Hemky Madera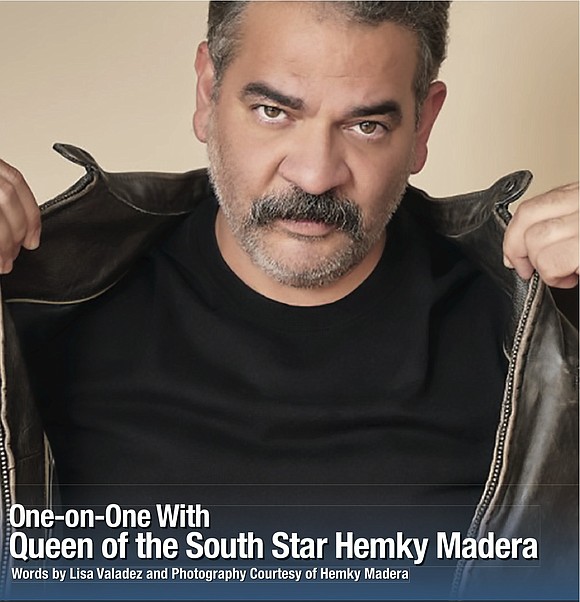 Without a doubt, Hemky Madera is a rising star. Every role he has been casted for, his stand out performances measure up to and often supersede the leading actor/actress. From theatre to television, Madera is unstoppable.

Houston Style recently caught up with the talented actor for some insight on how he got into acting, his current projects, and what's in store for the future.
Madera was running a few minutes late for our scheduled phone call interview. His dog had suffered an ear infection and he was en route to the veterinarian. (This warmed my heart – my favorite drug dealing, gangster television character is a dog lover!)
Houston Style Magazine: The name Hemky, I have never come across another person with that name. Where does the name derive from?
Hemky Madera: Depends on who you ask in the family. But my understanding is that my mother went to visit her twin sister and relatives in New York in 1977 when she was 6 ½ months pregnant. There were some complications and she had to have a C-section. My aunt has a son named Henry so when she looked in the book of names – she actually named me – they named me Hemky Lewis (my father's name is Lewis).
HSM: Tell us about growing up in the Dominican Republic.
HM: My father didn't meet me until I was 2 months old. He didn't have a Visa at the time, so he was unable to travel to the states. So once we were cleared from the hospital, my mom took me back to the DR. My father was working for the phone company at the time and my mother worked for my uncle who owned a rice factory. Eventually, my parents left me with my paternal grandmother and my parents went to New York to make a better living for a year. They saved their money, bought merchandise, and my mother opened her clothing store in the DR.

Then, when I was 10 years old, I went to live with my aunt and uncle for one year in New York where I went to school. My parents were running their store but would fly to NY every 3 weeks to buy merchandise and stay for a week. It was hard but I never felt like I was neglected – we have a very big family.
(During our phone interview, Hemky pauses to play with his dog as I anxiously wait for him to use his Queen of the South character voice. He continues to talk about his family as he drops off his dog and picks up his son from school. And again, I'm in awe because I am picturing him in his "Pote" attire while performing these fatherly duties.)
HSM: What prompted you to want to be an actor?
HM: When I was 5 years old, I remember having cable in the DR and I saw the movie "On the Waterfront" (in English) and I didn't speak English but I was intrigued. I would watch movies and go outside and reenact certain scenes. I remember seeing the famous glove scene in this movie. And at that moment, I turned to my parents and said, " I wanna do what he does".

HSM: In the television series, Weeds, your character, Ignacio – the wrestling scenes – how did you prepare for the role and did you land the role immediately?
HM: I remember before I booked Weeds, I booked this campaign for a Hummer commercial, H3. I was waiting tables at the time doing calculations in my head about how much money I was going to make but then the ad agency had a dispute with the client and they reshot it with someone else. And I had quit my job at the time. I was thinking about going back to New York but then my agent at the time had got me an audition as a mechanic on Weeds and it was only going to be one episode. So I go in to audition and boom – they contact my agent and said, "We're not going to give Hemky that role, that would be a waste of talent. I want to him to come back to see what he can do with the role of the Mayor. He is not gonna get it, that role is already cast but I want to see what he can do with it." And I'm like – wait, I'm going in for something I'm not going to get. I'm like ok, sure. I had a motorcycle at the time and it didn't start, so guess what? I was late. I was late by like 10 minutes. I had to literally walk there. So, I go in, I do my thing and right away one of the producers says, "you know what that was amazing – there is a role named Ignacio and it's yours". I'm like – cool, ok. Ignacio was supposed to be a 2-episode arc and that was it. I remember shooting the scenes for my character in one day. I shot the scene where I am asking Elizabeth Perkins to order me some food – I adlibbed the kiss – she was not expecting it but she stayed in character and because of that I wrote myself into the rest of the season! I am a fan of Mary-Louis Parker. She's a great actress and unfortunately, I hardly had any scenes with her, however, following the scene I did have with her, she said to me, "Hemky, I just spoke to the writers. I want more of you here – you're an amazing actor". And that's what happened, how it happened – a 2-episode arc became a 3-season character. I felt great, welcomed, and respected.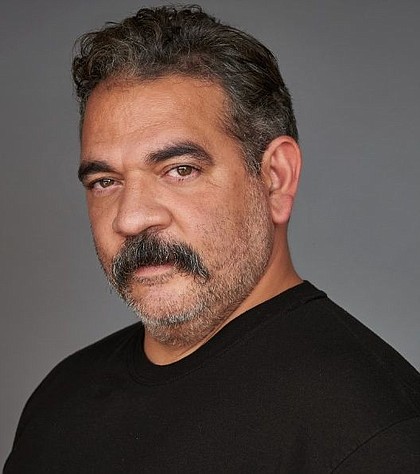 HSM: Let's talk about your Queen of the South "Pote" character. You are a fan favorite of the show.
HM: A funny story about Pote – the book and Spanish soap are such a success. I am a true fan. I audition for Teresa's father but I felt too young for it. I felt that at least I would be seen if I audition. I get a call a few days later to audition for Pote but I'm told to put it on tape (instead of a live audition) because the show runners and producers were going to be in Mexico City for scouting. So I'm like ok cool – I put myself on tape the day before Thanksgiving. It says in the description "Pote is tied up wearing an XXL Taylor Swift shirt" - and I'm like interesting – this guy is a bad ass but he's wearing this? (we both laugh) –The back story is that Pote was being tortured. He was naked and he got away, found this big t-shirt and put it on.
So, I go to Hollywood Blvd - I'm 42 now but you're talking about the fact that here is this 38 year old man (at the time) looking in every gift shop store looking for an XXL Taylor Swift t-shirt – so you can imagine all the looks I got, like – ummm….no sir, please move on. (No lie, I was so excited hearing this story but I had to contain myself). So finally I get to the 8th or maybe 10th store and finally this one guy tells me about a spot that they print t-shirts and kind of laughs while saying "I recommend that you go there". So I go there and long story short, I finally get the XXL Taylor Swift shirt. So, I put myself on tape and send the tape in. Quick note: my wife helped me. She graduated from NYU as an actor. She's a singer/songwriter and recently released her EP and is about to release her album. She is the one that puts me on tape and I send it in. On Thanksgiving morning, I get out the shower, look out the window and I see some new neighbors that just moved in. So after I get dressed, I tell my wife that I am going to say hi to the new neighbor.
So I step out and I'm like "hi, welcome to the neighborhood" – and these 2 guys turn around and one of them says – oh hi Hemky, we're waiting for your tape. And at that point, in a fraction of a second, I'm like holy shit – these are the show runners of the show "Queen of the South" – so of course, I played it very cool and I tell them that I just mailed the tape off yesterday. We say our goodbyes and I hurry back to the house, I go upstairs and I go "mami, mami (heavily breathing and staggeringly saying my words) – the show runners – queen of the south – they're our new neighbors!! And eventually I get the call that says congratulations Hemky, you got it, it's yours. Me? Without testing? And they're like – yes, without testing, it's yours. Then, the next day I get a call back – "Hemky I'm so sorry, somebody made a mistake, it's not yours yet, they need to test you". Well, I couldn't test because I was going to be working on another project, Cocaine Cowboys – but I was told not to worry because they were going to test me from the tape I had submitted. A week later – I get the call – it's official – the role of Pote is yours. Going back to the voice, the voice of Pote - I read the script and started watching documentaries about sicarios and narcos and the Mexican mafia – everything you could imagine. I fly to Mexico to shoot the pilot. When it came to wardrobe – they wanted to keep me with a beard and I'm like "no, I see him with his hair slicked back and a thick mustache and sideburns like I used to see when I was growing up in the DR. I used to see these Mexican movies and that is how I pictured Pote".

So of course, as soon as I put the clothes on, the big belt buckle and the jewelry, and at that moment, that's when the voice happened. My voice just got deep and I slowed it down. It became slow and very dark. No disrespect to the guy that did the soap opera. He did a great job but I didn't want to be a carbon copy. I always saw Pote as, well, "you don't wanna mess with Pote" - which going back to Ignacio's character – he was a funny, quirky tough guy but he was just a complete buffoon.
HSM: (As I interviewed him – I was doing a live tweet feed so that fans could ask me questions and the 2 most asked questions were if his voice was really that of Pote's and was his mustache real.)
HM: Yes, the mustache is very real.
HSM: (Madera begins speaking about his co-star Alice Braga who plays Teresa Mendoza on Queen of the South)
HM: The relationship that Alicia and I have, it's like brother and sister. From day one, we became real close and she's now like an aunt to my kids, she's family. We have lots of fun on set. I'm a prankster. I prank. I have fun – the wrath of Hemky is coming on set! I respect people's journeys and I don't disrespect people while they are working but I do like to have fun. I mean, if I'm not having fun, then why am I doing this?
HSM: I know you've worked with some Hollywood heavy hitters. Is there an actor or actress or director that you would like to work with in the future?
HM: Oh, wow. James Gunn, I wanna work with him so bad. I was actually offered a role in Suicide Squad but unfortunately I could not do it because it was in direct conflict with Queen of the South. When I did Spiderman Homecoming, it was great, Tom [Holland] is such a great guy, great kid, fun to work with.
HSM: "I'm a leading man who does character work", this is your quote from a past interview. Can you elaborate on this quote?
HM: Back in that moment in time when the leading man was very handsome, tall, thin, all that stuff – in that moment in time – when I stated that quote, I was a leading man and I know I was capable of what I was doing.
HSM: What is next for you? You mentioned shooting some episodes for the new Perry Mason
HM: I am doing a 4 episode recurring role. It is a period piece, which is always amazing. It's [Perry Mason] on HBO and it's with Matthew Rhys and I get to work with Veronica Falcon again [Camila Vargas on queen of the south]. She is doing a recurring role as well.
Madera made this interview one of the best that I have had in quite some time. When speaking about his career, family, and even his wife's career, his excitement and passion were quite apparent – even over the telephone. I didn't want the conversation to end and I even tried to sneak in a dinner invite – which at that point, he stated that he comes to Houston often. So maybe it's a possibility?
For Pote fans, Queen of the South has been renewed for its fifth season, making the show the longest-running scripted series on USA Network. So now is the time to catch up on the show! Also, for those of you that haven't watched the show, get on those streaming aps and start now. What are you waiting for?
You can also catch up with Madera's latest project, Perry Mason, an HBO production, which is slated to debut this year.
Get social and follow Madera on Twitter at @hemky