Kobe Bryant, fiery NBA superstar and future Hall of Famer, is dead at 41
CNN. com | 1/26/2020, 7:21 p.m.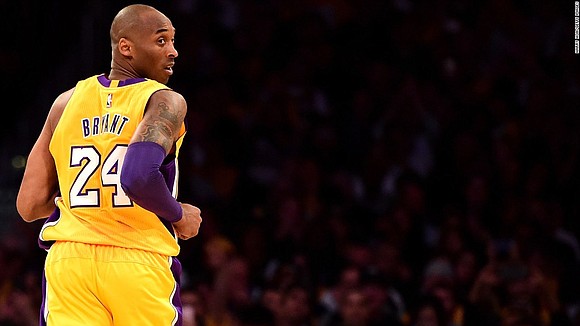 By Jill Martin, CNN
It's hard to believe NBA superstar Kobe Bryant, whose prodigious talent and fiery, win-at-all-costs spirit made him one of the most famous and decorated athletes in history, is gone.
He was the rare celebrity who didn't need a last name. Oprah. LeBron. Beyonce. Kobe. Everyone knew who you were talking about.
Still youthful at 41, Bryant -- who died in a helicopter crash Sunday in California -- looked like he could suit up and drop 30 points on a rival NBA team. It doesn't seem that long ago that he was scoring 60 points in his final NBA game, soaking up the cheers of Los Angeles Lakers fans who worshiped him for two decades as one of the city's favorite sons.
After his 20-year NBA career -- all with the Lakers -- Bryant is all but assured of being a first-ballot inductee into the Naismith Memorial Basketball Hall of Fame later this year.
"He was a fierce competitor, one of the greats of the game and a creative force," said fellow NBA icon Michael Jordan.
An 18-time All-Star, Bryant was known for his remarkable scoring ability -- his turnaround jumper was nearly unstoppable -- and his championship pedigree. He teamed with fellow All-Star Shaquille O'Neal to win three consecutive NBA titles from 2000 to 2002 and later won two more rings, in 2009 and 2010.
Known as the Black Mamba -- a nickname he gave himself -- Bryant twice led the NBA in scoring and won the league's Most Valuable Player award in 2008.
Bryant's daughter Gianna, 13, was with her father on the helicopter and was also killed in the crash, a source with knowledge of the situation told CNN.
"There's no words to express the pain Im going through with this tragedy of loosing my neice Gigi & my brother @kobebryant I love u and u will be missed," said O'Neal on Twitter. "My condolences goes out to the Bryant family and the families of the other passengers on board. IM SICK RIGHT NOW."
O'Neal later went on to write in a separate post: "Kobe was so much more than an athlete, he was a family man. That was what we had most in common. We love our families. Whenever we got together I would hug his children like they were my own and he would embrace my kids like they were his. His baby girl Gigi was born on the same day as my youngest daughter Me'Arah.
"R.I.P"
He entered the NBA at age 17
Bryant was born on August 23, 1978, in Philadelphia, Pennsylvania. His parents, Joe and Pam Bryant, gave him the namesake after seeing a type of steak on a restaurant menu. Kobe beef is from a species of cattle, Wagyu, raised in the Kobe region of Japan.
He lived in Italy from the age of six to 13 while his father played professional basketball, and he spoke Italian fluently. In one of his final interviews before he died, Bryant told CNN how he developed a love of soccer in Italy but also witnessed racism before moving back to the United States.