Ready for Relaunch
Rockets prepare for the NBA season to resume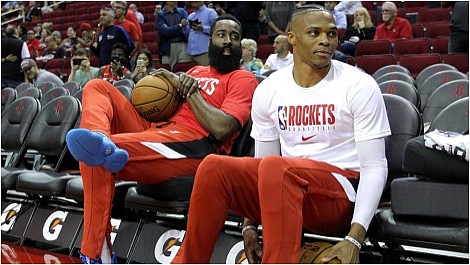 The NBA is preparing to resume its 2019-20 season at the end of this month with 22-teams playing eight games for seeding purposes for the playoffs. Those games are scheduled to take place at the ESPN Wide World of Sports Complex at Walt Disney Resort in Florida.
One team that will be in attendance is the Houston Rockets who is looking to get back into the swing of things after having clinched a playoff spot for the eighth straight year in a row pre-coronavirus global pandemic that halted the season back in March. Houston is currently tied for the No. 5 spot in the Western Conference and will use the eight games to try and move up in the standings.
"You're going to have to beat the best teams," said Rockets head coach Mike D'Antoni during a Zoom conference call on Wednesday with the media. "Doesn't matter what order you play them in, since there's not going to be home-court advantage. Those eight games, I'll treat them like, 'Yeah, I want to win all eight,' but I'm not going to do that by playing guys too many minutes."
The Rockets superstars have taken full advantage of their time away from the court as NBA leading scorer James Harden (34.4 ppg) put himself on a strict workout regiment, and Russell Westbrook followed suit by putting himself through strenuous workouts in the smoldering heat in California.
"He'll be ready," Coach D'Antoni said when asked about Harden. "I have no doubt. Not having three months of wear and tear on his body is going to help."
Houston will also benefit from having its number one reserve player, Eric Gordon, back at full strength once play resumes. Gordon had sat out 22 games during November and December after having surgery on his knee during the season. He averaged double digits in scoring over the last six games played before the season was halted while his minutes on the court increased.
"I am happy that I am back to full health," said Gordon via Zoom. "When you are having surgery during the season, it is always tough. But now I am back to myself."
The Rockets will participate in three scrimmage games before the regular season resumes against the Dallas Mavericks on July 31st. That is more than enough preparation time for the leagues second highest scoring team at 118.1 points per game.
"We will use scrimmages and those eight games to get ready for the playoffs," said coach D'Antoni. "We have as good a chance to win this as anybody. At the end of the day it's gonna come down to big players making big plays. We have two of the best if not more. We can make the big plays in big moments. We can beat anybody there, without doubt."
That is just the type of confidence that runs rampant throughout the Houston Rockets organization and that will be the attitude going into the final three months of the season.