Sweet Sound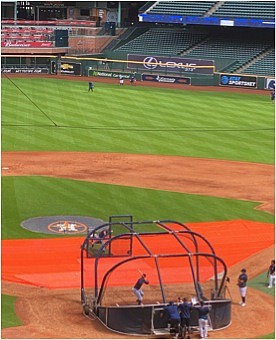 As soon as I stepped off the elevator, I could hear that sweet sound that I had missed for over nine months.
"CRACK!" (The sound of a player hitting a baseball).
That beautiful sound let me know that baseball was back in full swing. The Houston Astros opened up Summer Camp 2020, which is the equivalent to an extended Spring Training at Minute Maid Park today. Due to the ever-increasing cases of COVID-19 that has caused a global pandemic, the Astros took every precaution to make sure that everyone followed the rules and regulations set in place by Major League Baseball for social distancing
"Everyone is adhering to the protocols from the league," said new Astros manager Dusty Baker on following the COVID-19 safety regulations set by Major League Baseball.
Baker also reminisced about the last time he went through a season where there were such tumultuous times.
"It reminds me of the 1994-95 season," Baker said. "That was a replacement season and one of the worst seasons I had ever been through, but this is different with the coronavirus controlling what we do."
General Manager James Click did reveal during his press conference that another person in addition to the one reported on last week by the organization had tested positive for COVID-19. That led to speculations on why reigning 2019 American League Rookie of the Year, Yordan Alvarez was noticeably absent from today's workouts.
Neither Click nor Baker would comment on his absence per MLB mandated rules.
The Astros will resume practice on tomorrow at Minute Maid Park and the University of Houston baseball facilities. Make sure you are following @BigSargeSportz on Twitter for up to the minute coverage on "Summer Camp 2020."