Astros resume Summer Camp 2020 after receiving COVID-19 results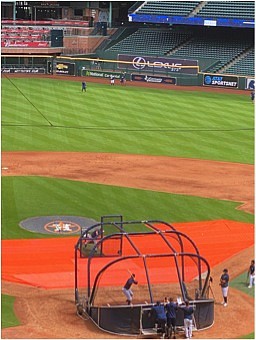 The Houston Astros resumed Summer Camp workouts today after cancelling Monday's practice due to a slow return of COVID-19 test results from the MLB. The players and organization took test this past weekend and with results being delayed they decided not to take any chances by having practice at Minute Maid Park or the University of Houston baseball facilities.
"There was a couple of hiccups and this is new for everybody," said Astros All-Star reliever Ryan Pressly when asked about the delay in the test results from MLB. "We just have to learn to make adjustments on the fly and once we are able to do that everything will run a lot smoother. It's a new system right now so everyone is trying to work the kinks out. As the days and weeks go on it will get better."
Pressly was part of a three-man rotation that threw live batting practice to Astros players after they completed fielding ground balls and popups from their respective positions.
Manager Dusty Baker spoke with the press afterwards and expressed that he was surprised by the cancellation of practice on Monday but was also thankful to the league and Astros organization for taking every precaution to keep the players and the staff safe. Baker also tried to take advantage of having the day off but ran into some problems trying to complete some simple errands due to the restrictions placed on the state by Governor Greg Abott due to COVID-19 related issues.
"It was strange to be done by 10am on yesterday," Baker said. "I tried to go get me some soul food and they were closed."
Major League Baseball released its 60-game regular season schedule on yesterday. The schedule wasn't too kind to the Astros as they will be doing a lot of traveling to the West Coast to play divisional foes, Los Angeles Angels, Oakland A's and the Seattle Mariners. They will also add games against the Los Angeles Dodgers and San Diego Padres.
Baker added that he will do as much as he can to get players rest but also reiterated that due to the late start to the season due to COVID-19 that all players should be healthy and ready to go.
"Right now, rest isn't an issue," said Baker. "Nobody will play every day, but it will be tough to take some guys out with the limited amount of games that we do have, and some guys are not going to want to come out."
Houston was without a number of players in practice today which led Baker to say that he could not disclose the reason due to MLB rules. The Astros will take the field tomorrow to continue Summer Camp 2020 as they prepare for the game day opener at Minute Maid Park on July 24th versus the Seattle Mariners.