Jesse Jackson: First Concern in College Sports Should Be the Lives, Health of Athletes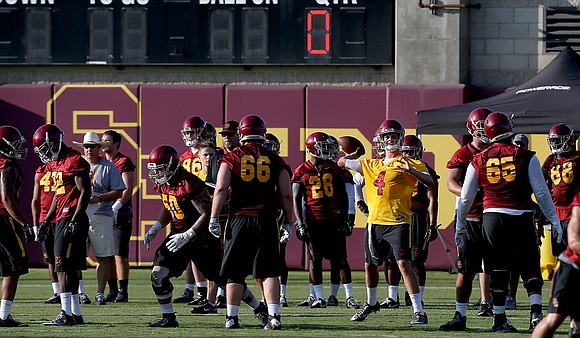 By Jesse Jackson, Tribune Content Agency
Covid-19 isn't "disappearing," as President Donald Trump suggests; it is surging, setting new records in daily cases. The states that rushed to "reopen" the economy now are reversing course. Yet the NCAA still assumes that the college football season will begin at the end of August, and that mandatory practices will begin this month.
There's a lot of cold, hard cash at stake, as well as tradition and athletic pride. But as California, Texas, Florida and Arizona -- states with noted football powers -- have become new hotspots, surely it is time to reconsider.
The threat is clear. "The growth is exponential at this point," Miami Mayor Francis Suarez said on ABC's "This Week." Mayor Steve Adler of Austin, Texas warns that "there won't be enough medical personnel to keep up with the spike in cases if the rate of increase continues unabated."
The disease seems to be spiking among younger, presumably more resilient people, so the number of deaths hasn't kept pace with the soaring number of new cases. But that only adds to the dangers of reopening colleges and particularly of opening mandatory football practices. The University of Southern California has already decided to cancel on-campus classes this fall. If it is too dangerous to go to class and to open campuses, surely it is too dangerous to open mandatory practices and go forward with the fall football season.
At the end of June, at least 165 college players had already tested positive for COVID-19, many of them having brought the disease with them as they reported for voluntary football practices. There is "extreme nervousness" about going forward, reports commentator Paul Finebaum, but handwringing and hoping is not enough. Clear choices and serious answers are needed.
The NCAA, college presidents and athletic departments are terribly conflicted. Billions of dollars are at stake. In major colleges, revenues from the football season often cover the costs of many of the other sports. No small part of university endowments comes from contributions solicited from fans and alumni excited by a winning football season.
Can football be played safely amid the pandemic? College athletes won't be in a bubble. They'll be out and about in college life -- if there is college life. And what we've learned from the recent spike in cases is that, as restrictions are relaxed, young people do what young people do -- and the virus spreads.
At the very least, the NCAA should review and release a new comprehensive protocol for schools in every division on essential practices. This would include regular testing and guidelines on the length of quarantine for those testing positive or those in contact with someone testing positive. College athletes should have the right to decide not to risk their lives to play their sport -- and they should be free to make that decision without putting their scholarships or eligibility at risk.
Guidelines are also needed for other participants in football events -- cheerleaders, band members, coaching staffs, administrative staff, stadium personnel and more -- as well as for fans. Will they be required to wear masks and sit 6 feet apart during games? The basic standards should be nationwide and should not be left to the individual college or conference. The latter can add greater restrictions but must be required to follow minimal ones.