Summer Camp Pitcher's Duel
Astros Ace's Justin Verlander and Lance McCullers Jr. go against each other in simulated game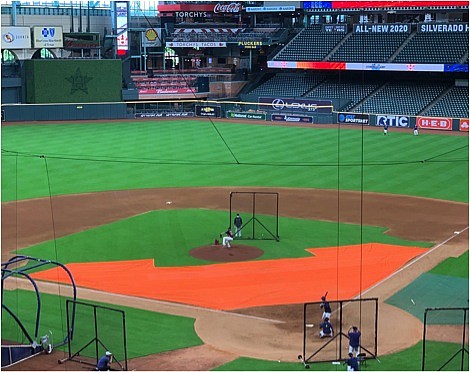 A pitcher's duel of small proportion broke out at Minute Maid Park as 2019 AL Cy-Young Award winner Justin Verlander and 2017 All-Star Lance McCullers pitched in the simulated game held during Summer Camp 2020 in Minute Maid Park.
Team Biggio was led by Verlander who pitched three innings of no-hit baseball against the likes of superstars George Springer, Jose Altuve, Alex Bregman, and Michael Brantley. The only player to reach base against Verlander was Yuli Gurriel who reached on an error by shortstop Jack Mayfield. His final stat line read as if he was playing in a regular season game:
0 Hits, 0 Earned Runs, 0 BB, 5 K's, 44 Pitches, 28 Strikes.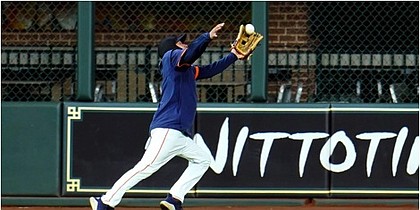 "I'm not perfect or exactly where I want to be yet, but very, very close," said Verlander of his outing. "Today was a huge success for me, in my opinion, in just the way it felt."
Verlander is still recovering from a groin injury he sustained in March that required surgery. His recovery time of six to eight weeks was supposed to keep him from Opening Day 2020, but the Major League Baseball season was postponed due to the COVID-19 global pandemic.

"Obviously, it was horrible circumstances, but it gave me a chance to hit the reset button," Verlander said of the additional time he had to heal from surgery.
Manager Dusty Baker was very pleased in what he seen from Verlander who won 20-plus game winner from 2019.
"It's one thing to watch him on television. It's another to watch it from field level. He looked great today," Baker said.
Opposing pitcher for Team Bagwell, Lance McCullers Jr. also had an outstanding outing as well pitching four innings giving up only one run that was driven in by Kyle Tucker after leadoff hitter Myles Straw drew one of only three walks given up by McCullers. He also matched Verlander in strikeouts with five.
"I thought Lance looked great," Verlander said when asked about his observation of the four innings he pitched. "His fastball and changeup were spectacular. We talked afterwards and there are some similarities on what he is working on and what I am working on, so we have that in common. We will probably talk about it more within the next week."
For as great as Verlander and McCullers looked on the mound today, they still were not the highlight of the simulated game. That honor goes to Astros bullpen catcher Javier Bracamonte. With two-outs in the bottom of the fourth inning, All-Star third baseman Alex Bregman hit a hard liner to right center field. Bracamonte who usually does his best baseball work from the catcher's position used his jets to chase down the ball and make a spectacular catch which brought cheers and elation from all the players and coaches.
The Astros will play another simulated game on Sunday with the pitchers to be announced.