Coming Together
Astros hold another scrimmage in preparation for exhibition games next week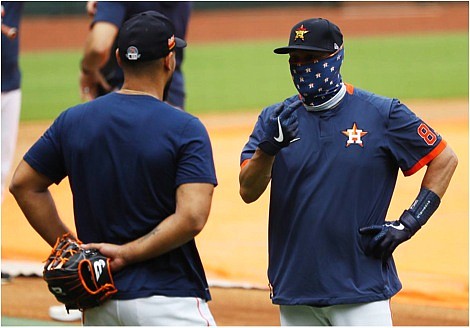 The Houston Astros are putting the right pieces into place and are once again coming together like that cohesive unit that we have seen win the American League Pennant for the last three years. For the second time in three days, the Astros held a Team Bagwell vs Team Biggio inter-squad scrimmage that ended in a 3-3 tie game.
RHP Zack Greinke took the mound and pitched three solid innings (stats) before self-admitting that he got fatigued in the fourth inning.
"Today, I really got tired in the last inning," Greinke told reporters via Zoom. "So, we'll try for 75 [pitches] or so, but it's possible it will only be 60. Possible it will be 80. I don't know. I'm hoping for more than 50."
Opposing pitcher Josh James who arrived at Minute Maid Park this week had a good outing throwing 64 pitches and was really trying to get back into the swing of things. James was delayed due to the birth of his daughter on last Thursday.
"I felt good and I feel like I still have some more in the tank," said James about his pitching performance today.
James, who made his major league debut in September 2018 looks forward to being an intricate part of the Astros pitching rotation and relishes in the opportunity to be able to start again.
"I have really been looking forward to starting again," James said. "When I came up the team needed a bullpen arm, so I stepped up. This upcoming year I am really glad they are giving me a chance to start and show what I can do as a starter."
Manager Dusty Baker got a quick glimpse of what extra innings baseball will look like this upcoming season. The Astros used Thursday's intersquad scrimmage to simulate the extra-innings rule that has been implemented by Major League Baseball to help cut down on the time of extra play. A runner (batter who made the last out) will be placed on second base every inning after the ninth in a tie game.
"I've seen it in a couple of Minor League games," Baker said of the new rule. "We just try to simulate every situation that you're going to run into during the season. Some of the guys are asking if it counts on your batting average, does it count on RBIs, does the pitcher get the loss? Some of the pitchers are curious about do they get the ERA increase and all kinds of stuff. It's still a work in progress."
Baker also told reporters that hitting coach Alex Cintron is familiar with the rule because it was used when he was managing in Puerto Rico.
Houston will participate in another intersquad scrimmage tomorrow as they prepare for their exhibition games next week against the Kansas City Royals.