For James Harden It's Business as Usual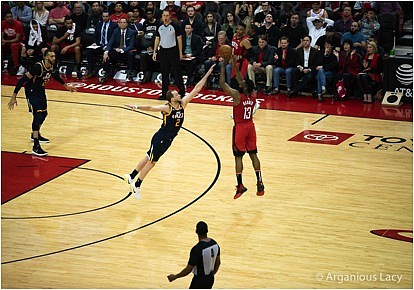 A familiar face made its way back to the basketball court on Thursday. To the NBA world it was refreshing to see. For the Houston Rockets it was business as usual. James Harden practiced with the Rockets for the first time in Orlando, Florida at ESPN Walt Disney World and picked up right where he left off the last time the team was together in March.
'He looked good," said Rockets head coach Mike D'Antoni of Harden. "He was rusty for about 30 seconds and then he was back to his normal self. He played well today."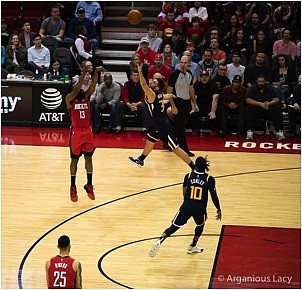 The back-to-back NBA scoring champion who is averaging 34.4 points a game this season had his arrival to the "Bubble" delayed due to some family issues that required his immediate attention. He showed up Tuesday night and went through all the NBA protocol for COVID-19 testing and was cleared to practice on Thursday.
"I feel comfortable no matter what if I take a month or two off," Harden said to the media via Zoom. "The biggest thing for me is conditioning. If I'm able to be in all right shape to get to my spots and handle the ball and get my shot off, then I'm cool."
Harden put himself through a rigorous training regimen during the break in order to come back and compete at the peak performance that has him being mentioned as an NBA MVP candidate.
"Today was the first time I have played five-on-five in over a month," said Harden. "I felt good today. I pushed myself through it and every day I just have to continue to get better."
The world has changed a lot since the last time the Rockets played an actual NBA game. With the civil unrest and social injustice issues that have plagued our nation, in conjunction with a global pandemic caused by the coronavirus, most players just want to get back to playing basketball.
"It has been a whirlwind," said Harden when asked about the last four months. "I think every single day it was something new. For us its bigger than basketball, but now I feel like it's just a great opportunity to give the world something positive to look forward to."
Harden is known around the league as a fierce competitor who gives his all each and every time out. Yet the one thing that has eluded him is an NBA Finals championship. He is hoping that changes this year. With no fans present in the stands and playing under different circumstances than he is used to by playing. He knows that no team has homecourt advantage and that seedings does not matter in this situation because everyone is playing in the same building.
"The world knows that no matter what is going on, James Harden loves to hoop," the five-time NBA All-Pro said in the third person. "He's a competitor."