The Life and Legacy of Earl Lewis Thomas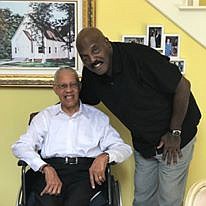 BOOM! Earl Lewis Thomas was a force that no one wanted to challenge on the football field. The NFL defensive man was one of six that encompass the Seattle Seahawks' Legion of Boom that put the team in the history books for their six consecutive seasons. The NFL, family, and friends are mourning the powerful wide receiver as Thomas passed away in Houston at the age of 71 succumbing to COVID-19 virus.
A Texas raised man, Thomas studied at the University of Houston and played with the Cougar football team before graduating in 1971. Following his collegiate career, Thomas caught the eye of the Chicago Bears and was drafted in the sixth round. For six seasons in the NFL Thomas lived out his dream playing for NFL's Chicago Bears (1971-73), St. Louis Cardinals (1974-75) and Houston Oilers (1976). His NFL's gains are super impressive - 106 passes, 1,651 yards, 14 touchdowns. One of his most remembered plays was a kickoff return for an 82 yard touchdown. Among his many accolades for his football career, Thomas was most proud of the honor coming from his hometown in the Greenville Athletic Hall of Fame. His two brothers would follow him to the NFL.
Thomas' football is something to talk about but there is more to Thomas than football. Retiring from football allowed Thomas to concentrate his energies in the old and gas industry. Leader of his own refinery company, Thomas became the Chief Executive Officer of Gold Line Refining Company. The petroleum refining company based in Lake Charles, Louisiana became one of the top black businesses in the nation. His professional career continued with the WTM Investments Company where he formed a partnership in the affordable housing development and management company.
His journey through life led Thomas back to Houston to settle down in his retirement years. Settling down was not what others had in mind when hearing of Thomas' return to Houston. He was called to be apart of the "Kitchen Cabinet" of the newly formed William A. Lawson Institute for Peace and Prosperity (WALIPP). Thomas headed the construction of the 50-unit WALIPP Senior Housing project on Scott Street in Houston's historic Third Ward. In addition, Thomas helped fund the project along with others organizing WALIPP's annual fundraising golf tournaments.
Outside of work, Thomas' charitable work training boys and girls in track and field skills with Track Houston track club and other teams propelled him to be the President of Track Houston. His dedication to the sports allowed him to be named the first National Coach of the Year by USA Track and Field. Thomas' support for youth extended to him being selected as the Program Director for the NFL Alumni Association-Houston Chapter and created the "Touchdown Guys," a non-profit to counsel and provide residential placement-- a second chance—for challenged youth.
Thomas racked up countless awards including the 2019 Living Legend Award given by Windsor Village Church's Kujichagulia Girls Ministry. Additional recognitions cam e from Houston Mayor Sylvester Turner proclaiming March 2, 2019 as "Earl Thomas Day" in the city of Houston and Congresswoman Sheila Jackson Lee.
Earl Lewis Thomas will be greatly missed.