Will Texas Shut Down Again?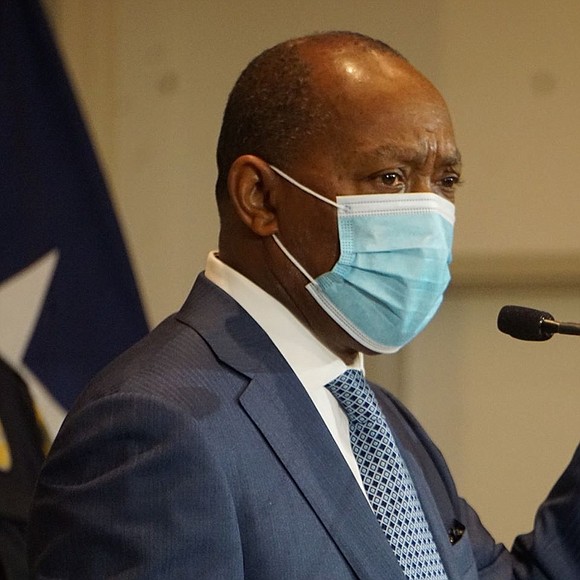 Several businesses have signs that require a shirt and shoes for service. Other businesses with drive-thru windows require one to be in a vehicle for service. Schools required visitors to check in the front office before visiting other parts of the school. Certain buildings have restricted areas where the general public is not allowed. In every instance, rules have been established that people are expected to follow for everyone to remain safe from harm. To manipulate the lyrics from Beyonce', "Who runs the world?" Rules, that's who. So, why is it so hard to follow something like wearing a mask when it is just to protect the safety of yourself and others?
Texas has become a state to watch due to the soaring positive cases of COVID-19. Some positive cases are due to circumstances beyond the infected individual's control, however, the majority of cases are by preventable actions of in-person contact. Actions where individuals are "living their best life" having fun, exercising their rights, and maneuvering like the coronavirus went somewhere else. There are so many stories of individuals who went to mass gatherings of people at the beach, at the club, at house parties, and the list goes of places where large populations of people went in negative and came out positive with COVID-19. All because they didn't want to wear a mask in public and got themselves and others sick. Those actions are not the actions of people who love this country or people in this world.
As the number of cases grows up in Texas, the Lone Star State has become a hot spot and that curve is not flattening. Health officials have warned that if the number of cases continues to rise, more death is likely to result. Refrigerated trucks are now starting to prepare by ordering trucks as the morgues fill up according to CNN. Cameron and Hidalgo's counties are already using refrigerated trucks because there is no space in the morgues. San Antonio has also ordered the same kind of trucks. South Texas hospitals are overcrowded so hotels are being converted into health care facilities. Experts at the University of Washington have projected that 224,000 people will die from the virus by November 1.
Those kinds of numbers are what Houston Mayor Sylvester Turner is trying to prevent in Houston. He has said that the "coronavirus is out of control in Houston and the state." Statics show that more than 200 have died and an estimated 26,000 have tested positive from COVID-19. And even those death totals are not accurate since some individuals didn't even seek help to get better and died outside the hospital setting. The current cases are being seen in younger age groups versus the older ones like they were at the height of the virus the first time COVID-19 struck. Citizens are being urged not to wait to ask for help or call 911 when they feel symptoms associated with COVID-19.

"As mayor, I simply cannot ignore those words coming from Houston Health Authority Dr. David Persse, as well as other doctors," Mayor Turner said in a press conference about the canceling of the GOP convention in reference to Houston.
Following his comments, Congresswoman Shelia Jackson Lee expressed her concerns, "Right now, I am frightened. I am frightened for my constituents."
Growing Concerns in Education
The soars in cases has alarmed school district professionals as they try to chart the best course for students for the 2020-2021 school year. In-person study or home school is the question educators across the country are pondering. President Donald Trump and the Secretary of Education Betsy DeVos are urging schools to open and for students to return.
"Kids need to be back in school, and school leaders across the country need to be making plans to do just that. There is going to be the exception to the rule. But the rule should be that kids go back to school this fall. And where there are little flare-ups or hotspots, that can be dealt with on a school-by-school or a case-by-case basis," commented DeVos.
Houston area officials all have issued out their plans for the upcoming school year.
The interim superintendent of Texas' largest school district has said that students will return to school in the fall, it will just be delayed a little bit. The plan is to have all students continue virtual learning for six weeks from September 8th to October 16th at the beginning of the year. However, this plan is not set in stone as officials have said if conditions change in any manner that the plan would be adjusted.
"We have been working diligently to identify ways to continue providing quality education while ensuring the health and safety of our students, staff, and families. I believe this plan is the best option for the HISD community, given the current circumstances and challenges presented by COVID-19," said Houston ISD Interim Superintendent Grenita Lathan.
HISD is listening to the concerns of parents who don't want their kids to return to in-person learning. Concerned parents can opt out of face-to-face instruction for the entire fall semester and are asked to complete the Parent Introduction to Virtual Learning Online by August 28th. Parents are given further control over their child's education by being able to change their education preference after every six-week grading period. When in-person instruction returns, all employees and students will be screened daily and be required to wear masks, wash their hands, and practice social distancing.
Fort Bend ISD has similar plans of learning virtually for the fall. Face-to-face instructions will be phased in with small groups. As expected in-person extracurricular activities have also been canceled.
"This is one of those decisions that won't be popular. As we are learning fully online, we will not be participating in co-curricular or extracurricular activities," said superintendent Dr. Charles Dupre.
Alief ISD has the same mindset for their students by offering only online learning when school start August 6th. Only when officials deem the district is fully prepared to welcome back students will they return.
Katy ISD is putting the decision to learn in-person or at home in the hands of parents. Some measures like a modified bell schedule for time to clean and disinfect, the requirement of masks, temperature checks for new enrollees and late arrivals, social distancing, and the wearing of PPEs for cafeteria staff.
Starting now until July 24th Klein ISD parents have the choice to choose which learning options fit best for their child. If no selection is made by the deadline, students will be automatically enrolled in face-to-face instruction. Galena Park ISD, Harmony Public School, Pasadena ISD, Pearland ISD, and Spring ISD are also giving parents the power to choose between online or virtual learning for their child.
Aldine ISD is still in talks mapping out the fall semester. They are working with the Texas Education Agency to come to a decisive plan.
Texas is known for bringing the heat with our record-breaking hot temperatures but being known for being a hot spot for record-breaking COVID-19 numbers is not where we want to be. Do better Houston. Wear a mask. Social distance. Wash your hands.