McCullers dominates in exhibition
I have always been taught to appreciate the small things in life and never take anything for granted. Astros starting right-hand pitcher Lance McCullers Jr. has that same mindset heading into the shortened 2020 MLB season. McCullers took the mound on Monday night against the Kansas City Royals in Kauffman Stadium in Kansas City and looked like the All-Star pitcher from 2017.
"It wasn't just an exhibition game for me," said McCullers when asked about pitching in a major league for the first time since 2018. "I was really happy to come here today. We took a little bit of a gamble knowing it may rain, but it was one we felt it was worth taking because I wanted to get some real game action in. So, for me I am grateful to get to this point."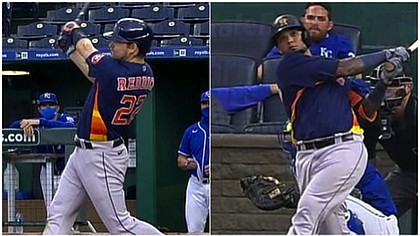 McCullers threw five innings only allowing one run in a 6-3 victory over the Royals. He struck out six batters and at one point in the game retired seven straight batters in a row. Astros manager Dusty Baker said earlier in the day that McCullers would throw around 75 pitches and he ended his night throwing 75 pitches with 46 of those being strikes.
Houston jumped out to an early 1-0 lead on Kansas City when third baseman Alex Bregman's double drove in outfielder George Springer who had earned a walk earlier in the inning. The Astros bats would ignite in the fourth inning as outfielder Josh Reddick and catcher Martin Maldonado hit back to back two-run homers to increase the lead to 5-0.
That lead would be all McCullers needed to close the door on the Royals. Kansas City's only run off of McCullers came on a solo homerun by Royals catcher Salvador Perez in the bottom of the fourth inning. Cy Sneed relieved McCullers and threw three strong innings with the only mistake being a two-run homer in the bottom of the eighth inning.
Dusty Baker was happy with his team's overall performance and was especially excited about finally seeing his number two starter take the mound and dominate after sitting out all last year due to Tommy John surgery.
"He (McCullers) was really good," said Baker. "He had real good command of his fast ball and had good velocity. His breaking ball was sharper and in the zone. He has come back from a long way and he has been working hard to get to where he is."
The Astros will be back in action on Tuesday for the matinee game against the Royals before heading back to Houston to prepare for Opening Day against the Seattle Mariners.