UIL Announces Schedule for High School Fall Sports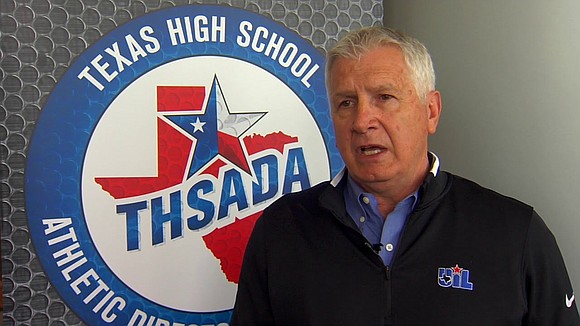 The University Interscholastic League came up with a plan to have fall sports for high schools throughout the state for the upcoming school year. Due to the COVID-19 global pandemic, most states have had to cancel all fall sports.
This announcement comes one day after the Southwestern Athletic Conference (SWAC) announced that they were canceling fall sports and would look to play them again with a shortened schedule in Spring 2021. That cancellation has affected in-state universities, Prairie View A&M and Texas Southern.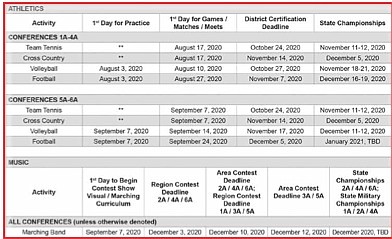 The proposed plan for high school fall sports would be delaying the dates for Class 5A and 6A until September, while Class 4A and below will be able to begin their seasons in August.
"Our goal in releasing this plan is to provide a path forward for Texas students and schools," said UIL executive director Dr. Charles Breithaupt in a press release. "While understanding situations change and there will likely be interruptions that will require flexibility and patience, we are hopeful this plan allows students to participate in the education-based activities they love in a way that prioritizes safety and mitigates risk of COVID-19 spread."
The UIL has also reserved the rights to change these dates if there are any increases in the number of positive coronavirus cases in a district. All Class 4A football and volleyball programs can begin workouts as early as August 3rd while Class 5A and 6A programs will begin after Labor Day.
Texas private schools fall sports were also affected by the coronavirus and on last week the Texas Association of Private Schools and Southwest Preparatory Conference announced that their season won't begin until after Labor Day as well.
This decision comes after the UIL had allowed school districts to come up with their own set of guidelines based on information given to them by local and state health officials. Most superintendents and athletic directors from around the state worked very hard to put together a plan that would benefit their district while keeping the student-athletes, coaches, and staff safe.
Below are the proposed dates of fall sports activities from the UIL and TAPPS:
UIL
Football 1A-4A
August 3: Practice
August 27-29: Regular season
November 12-14: Playoffs
December 16-19: State championships
Football 5A-6A
September 7: Practice
September 24-26: Regular season
December 10-12: Playoffs
January 2021: State championships
Volleyball 1A-4A
August 3: Practice
August 10: Regular season
November 2-3: Playoffs
November 18-21: State championships
Volleyball 5A-6A
September 7: Practice
September 14: Regular season
November 23-24: Playoffs
December 11-2: State championships
Cross Country 1A-4A
August 17: Regular season
November 14: District certification deadline
December 5: State championships
Cross Country 5A-6A
September 7: Regular season
November 14: District certification deadline
December 5: State championships
Team Tennis 1A-4A
August 17: Regular season
October 24: District certification deadline
November 11-12 State championships
TAPPS
Football
September 8: Start of fall practice
September: 14: First day of full pads
September 24-26: Scrimmage
October 1-3: Regular season
Volleyball
September 8: Start of fall practice
September 14: Scrimmage
September 21: Regular season
Fall Soccer
September 8: Start of fall practice
September 21: Scrimmage
September 28: Regular season
Cross Country
Swimming
Team Tennis
Golf
Cross Country