Welcome Back
Lance McCullers earns first victory almost two years to the date of last start
Houston, Tx- The city of Houston experienced a temperature drop due to the rain that continuously poured down from the skies for hours on Saturday. Yet Minute Maid Park must have felt as hot as the desert for the Seattle Mariners as the Houston Astros brought the heat at the plate for the second game in a row. The Astros (2-0) defeated the Mariners (0-2) by a score of 7-2.
Houston has now outscored the Mariners by a margin of 70 runs (127-57) dating back to last season and they continue to dominate them at home as they moved to 11-0 at Minute Maid Park since 2019.
Lance McCullers Jr. (1-0) made his first start in over two years and looked very good after he worked out some of the early inning nervousness. He was barely missing the strike zone, which is very understandable since his last official major league start was August 4, 2018. McCullers missed all of 2019 rehabbing from Tommy John surgery and had his 2020 debut delayed due to COVID-19 that caused Major League Baseball to push back Opening Day from April to July.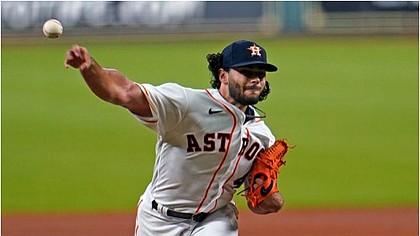 "It has been in two years since I had a win," McCullers said after the game. "It's been two years to the day since I made a big-league start. It's been a lot of ups and downs through that period of time and I am very grateful. Grateful for my teammates, grateful for the coaching staff and grateful for the medical staff."
The 2017 All-Star pitched six solid innings giving up two earned runs while striking out six batters and only walking three. The most impressive stat for manager Dusty Baker was the amount of pitches (92) McCullers was able to throw after such a long layoff.
"He found the strike zone, minimized his pitches, and made some quality pitches when he had too," said Dusty Baker about McCullers performance improving the team to a 2-0 record. "He went quite a few pitches in his first outing which is a sign of what kind of shape he is in and how his arm feels."
It was another rough outing for a Seattle's starting pitcher as right-hander Taijuan Walker (0-1) lasted less than four innings allowing five runs, all earned.
Most of those runs came in the bottom of the fourth inning as Houston exploded for four runs led by first baseman Yuli Gurriel's 367-foot home run to deep left center. That homerun extended the Astros homer streak to 27 games which ties the 2002 Texas Rangers for the second-longest streak in MLB history. They now trail the 2019 New York Yankees for the all-time record by four games.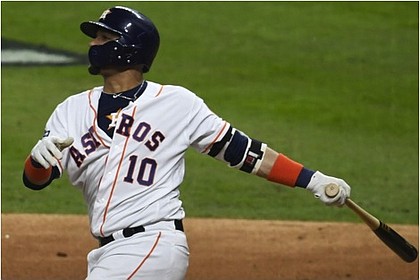 Designated hitter Kyle Tucker who is filling in for Aledmys Diaz who was placed on the injured list with a groin injury doubled to right field to drive in shortstop Carlos Correa who had been hit by a pitch earlier in the inning. Catcher Martin Maldonado continued his hot hitting at the plate by driving in two more runs to end the inning with the Astros leading 5-0.