Astros Place Justin Verlander On the 10-day Injured List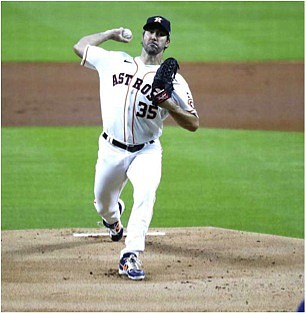 Astros No. 1 starter, Justin Verlander was placed on the 10-day IL list with a right-arm forearm strain according to Houston Astros communication department. Astros manager Dusty Baker said that Verlander will not throw for two weeks and will be reevaluated at that time.
It was first reported by the Houston Chronicle on Sunday that the 2019 Cy Young Award winner would be out for the entire 2020 season, but Baker quickly refuted that report after the Astros lost 7-6 to the Seattle Mariners on Sunday.
"It's a forearm strain," Baker said. "He's shut down for a couple of weeks, and we'll re-evaluate at that time. That's all I can tell you."
Verlander, who got the Opening Day victory on Friday over the Mariners also took to social media to give an update on his injury.
"The report that I'm currently missing the rest of the season is not accurate," He said.
Houston recalled right-handers Nivaldo Rodriguez and Brandon Bielak and optioned infielder Taylor Jones on Monday.
Baker told the media that an MRI was performed on Verlander on Saturday after he complained about a little tenderness after the game. Verlander showed no signs of an injury in his first start throwing 73 pitches over six innings.
"It was kind of a shock to all of us," said Baker. "On Friday he wanted to go some more (innings)."
It will be interesting to see if Verlander can bounce back from this injury with the amount of pitches he has thrown throughout his career. His age (36) will also play a major factor in his recovery especially since he had just fully recovered from off-season surgery on his groin.