Evictions: Millions of Families in Financial Turmoil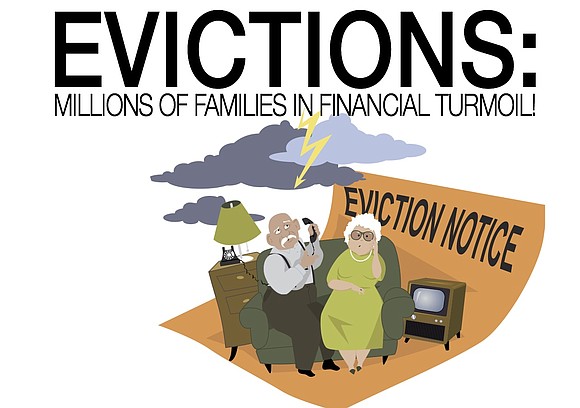 The COVID-19 global pandemic is scary enough with just trying to stay healthy. Adding stress to that problem for many Americans is the lost of income as a result of layoffs and furloughs since many businesses had to close their doors. Lack of money on an already low-income family is compounded stress making the first of the month one of the scariest days ever.
In March of this year, the Coronavirus Aid, Relief, and Economic Security Act, otherwise known as the CARES Act, bill was passed to give families economic help who were affected financially as a result of the fallout of COVID-19. A portion of the $2.2 trillion economic stimulus package had a federal eviction moratorium that gave protection to families living in federally backed or subsidized housing from being evicted. For landlords that meant they could not file any legal action against said tenants for nonpayment of rent or add more charges. That protection for tenants expired on July 24th.

August 1st will be a scary day for many American families as they try to decipher how they will pay their rent. Will they forgo paying the water and electricity bills? Will they reduced their budget for food or not get their prescriptions? Will they try to stay with family and friends increasing the risk of getting COVID-19 for themselves and loved ones? The decision won't be easy.
Most families will not even have the benefit of emergency rental/mortgage assistance programs and other resources as these entities have exhausted their available funds. Houston City Council approved $15 million for rental assistance that granted renters with $1,056 for rent expenses that when released expired in less than two hours. Harris County had a program that distributed $30 million to low-income families and that money has been distributed. More money came and it was gone just as fast. There is not enough funding to meet the demand and need for hurting families. Making matters even grimmer for affected families is the end of the $600 a month in unemployment benefits. Families don't know where to turn since many of them have also run through their entire savings too.
The expiration of the CARES Act has opened the path for landlords and housing authorities to head to court to file claims against tenants who are behind on their rental agreements. Tenants are filling the courts as well trying to hold on to their rental properties a little longer. Although families were granted protection from being evicted, their monthly rent balance still accumulated. This means some families are looking at having to pay months of overdue rent.
Giving families a glimmer of hope is the possible passage of another stimulus package. This week the Republican-led Senate passed the $1 trillion Health, Economic Assistance, Liability Protection and Schools, or HEALS, Act. This legislation would provide $3.3 billion in housing assistance, a drastic decrease from the $200 billion that the HEROES Act provided. Also, being reduced is the amount of unemployment benefits from $600 a month to $200. The bill does give eligible families a second $1,200 stimulus check. More money can be grabbed for individuals with dependents since the bill does not but an age cap on adult children. There is funding for the Paycheck Protection Program for small businesses. However, the bill does not extend the federal moratorium on evictions.
The HEALS Act is now being reviewed by the Democratic-led House, who will likely try to increase funding of the bill in party negotiations since they introduced the $3 trillion Health and Economic Recovery Omnibus Emergency Solutions, or HEROES, Act in May. That bill included $100 billion for rental assistance and $75 billion for homeowner assistance.
For now families are encouraged to open the lines of communications with their landlords. Maybe a renter can't afford to pay the entire balance but a portion of it. Or maybe other options can be discussed between the two.
Families should not give up hope as many are working on their behalf to find solutions to the problem.