Say His Name: George Floyd
Many from around the world came to Houston, Texas to say a final goodbye to George Floyd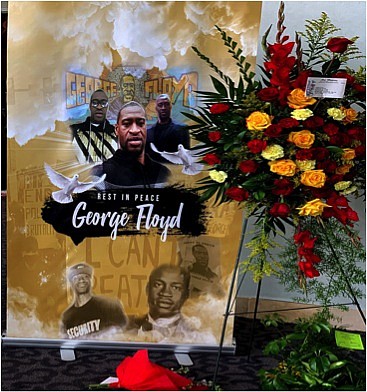 As I walked inside of the Fountain of Praise sanctuary where the public memorial for George Floyd was being held, a cold, eerie, and chilling feeling came over my body. It caused me to take a pause stopping me in my tracks before I took my next step. I began to replay the audio from the murderous video of the tragic day that Floyd died in an almost nine-minute encounter in my mind.
The words of anguished spoken by Floyd, "Please, the knee in my neck," blared loudly in my head.
Floyd's scream of, "Mama! Mama!" yelled out to me as I continued to walk down the aisle.
"My stomach hurts, my neck hurts, everything hurts. Just some water or something, please." I could hear Floyd's words ever so clearly as a deep state of panic began to take over my body and the desire to do something to help infused my soul. And then his final words called out to me that was filled with anger, pain and sorrow:
"I can't breathe!"
As I snapped out of the transient state I had fallen into, I realized that I was at the front of the sanctuary and the voice I was hearing was right in front of me in a peaceful state. Houston native George Floyd's body was laid out in a beautiful gold casket with blue trimming at the Fountain of Praise Church. He was dressed in a cream suit, fresh haircut, and looking very clean. The turmoil he had suffered was not visible. Although Floyd was physically gone, his spirit will remain a live by the many who came to pay their final respects to the gentle giant known simply as "Big Floyd."
Over 6,300 people attended the public memorial service including the Governor of Texas (R), Greg Abbott, who spoke with the media afterwards about his emotional meeting with the Floyd family.
"I had a chance to meet with the Floyd family and they love the state of Texas," Governor Abbott said. "Today is a sad day. Ever since his death (George Floyd), it has been a sad day. George Floyd is going to change the arc of the future of the United States."
It was over a week ago that the world watched in shock and horror as Floyd cried out for his life while being detained by four now former Minneapolis police officers using a technique banned by law enforcement. Leading the torment for Floyd was Derek Chauvin who used his neck to apply pressure to Floyd's neck for 8 minutes and 46 seconds. He never let up as Floyd tried to fight for his life. Floyd lost consciousness and his body went limp. Medical personnel attempted to revive Floyd but e would eventually die due to the actions of Chauvin could.
The reaction that followed Floyd's death sent shockwaves throughout the world. Over ten consecutive days of civil unrest moved through every county, city, state, and country. People took to the streets with a familiar chant "Black Lives Matter" no longer asking for the killing of unarmed Black civilians by law enforcement stop but demanding it.