Summer Is Coming and the Sheraton Panama City Beach Golf & Spa Resort Waits!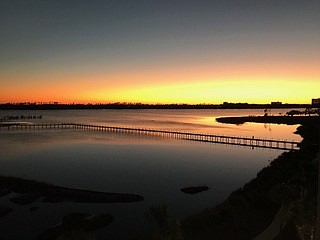 Nothing says, 'Summer Time' better than the white sandy beaches along the Gulf Shore! Of course, with a vacation, comes a great place to retreat and that is where the Sheraton Panama City Beach Golf & Spa Resort comes in. After making a full recovery following damages from Hurricane Michael in 2018, this waterfront, AAA Four Diamond-rated resort has reopened and welcomed guests back with open arms. There is no denying that the hotel is a destination unto itself, featuring tons of amenities and activities that can please each and every visitor. So, whether it is a lovers get-a-way, a family summer vacation or a friends' trip, I invite you to set your marks on the Sheraton Panama City Beach Golf & Spa Resort and escape your daily grind and revel in the sunny wonderland of Panama City Beach, Florida.
The Triumphant Return:
On October 7, 2018, the history of Florida's panhandle would forever be changed when the category 5 Hurricane Michael made landfall making it the fourth-strongest landfalling hurricane in the United States (in terms of wind speed) and the most intense hurricane on record to strike the United States in the month of October. Nothing was spared from the wrath of Hurricane Michael, including the Sheraton Panama City Beach Golf & Spa Resort.
After evacuating guests from nearly all of its 320 rooms and with a handful of the resort staff sheltered in place, it was time to weather the storm and the property did the best it could do. The wind and storm surge ripped the Sheraton's own Shell Island shuttle boat, the 40-foot Bay Point Lady loose from its mooring, taking one of the pier pilings with it. After a 72-hour search, the vessel was found washed up on the beach at Tyndall Air Force Base with surprisingly light damage.
With nearly every roof needing repairs (amongst many other things), it has taken a small army of workers and 10 months to bring the Sheraton Panama City Beach back from the storm's devastation. The resort has quietly reopened various elements as the work on them ended. All restaurants are now back up and running. The Sheraton tennis center reopened and the only Nicklaus design golf course in northwest Florida is open as well. Another milestone was the reopening of the upscale full-service Serenity Spa at Sheraton. It is safe to say, that even a category 5 hurricane could not take the heartbeat of the Sheraton Panama City Beach Golf & Spa Resort away.
Sun still shines at the Sheraton PCB
Now is the time for you to book your stay and spoil your family with a vacation that they will never forget at the gorgeous Sheraton Panama City Beach Golf & Spa Resort. The list of things to do at the resort is endless.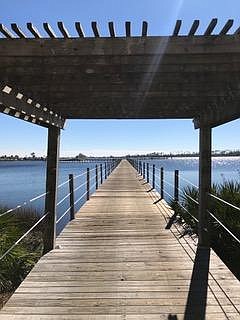 Enjoy playing tennis and volleyball, boating, sailing, relaxing on the Grand Lagoon Boardwalk, riding bikes or jogging on a designated trail, a game of corn hole, break a sweat at the 24/7 fitness center, or enjoy the outdoor sofas with a glass of wine. There are also activities just for children. Let your pet join in on the fun too, as the Sheraton Panama City Beach Golf & Spa Resort is pet friendly.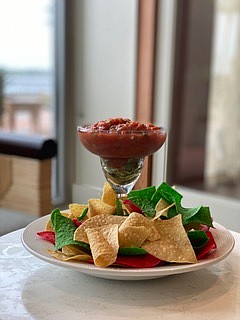 If you enjoy eating, like myself, then you will most definitely find yourself indulging in divine cuisines during your stay. Enjoy the fresh coastal flavors of Executive Chef Michael McBride at TIDES Restaurant & Lounge, which is one of the properties' restaurants. During our visit, we ordered bruschetta for two, chips and salsa, and coconut lobster fingers drizzled in a delicious key lime aioli. All of our food was great and the service was even better. I cannot recommend TIDES Restaurant & Lounge enough!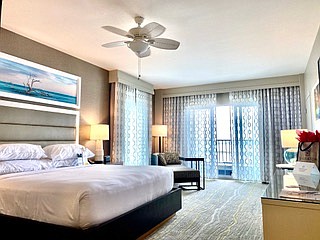 You will fall in love with the Sheraton Panama City Beach Golf & Spa Resort guest rooms. They are spacious, have plush bedding, super comfortable beds, and beautiful decorations. The bright colors, large windows, and modern designs make you feel like you are at the beach from the comfort of your room. Enjoy sitting outside on the balcony looking at the bay from your room while relaxing. You can choose from a pool or resort view room or request one directly outside of the pool–perfect for families. If you'd like a little bit more space, consider renting a suite or villa. Nevertheless, rest easy after the day's adventures in spacious, refined accommodations with signature Sheraton Sleeper beds for your comfort.
The bottom-line is the Sheraton Panama City Beach Golf & Spa Resort hits all the marks of an upscale waterfront hotel, including a private beach, upscale spa, fine dining, and numerous activities. The 320 rooms are modern and contemporary after complete renovations in 2016 and 2018. With two golf courses, a lovely pier, and four outdoor pools it is definitely enough to keep guests entertained. Visit www.marriott.com today and book your stay!