Trentino Gelato Makes Life Sweeter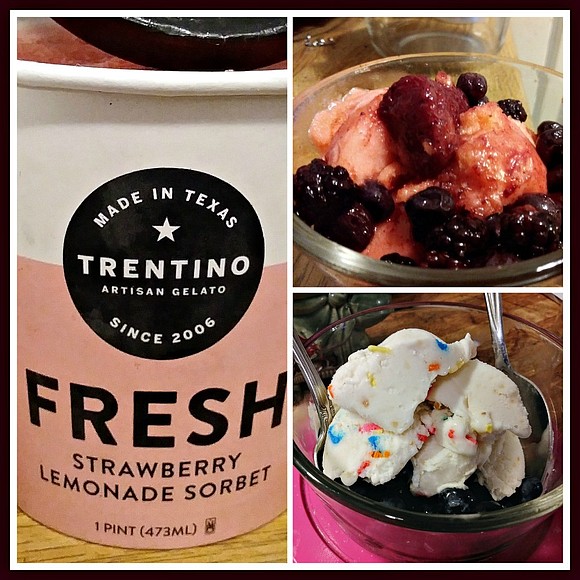 In the midst of the Stay at Home order, some of us might find ourselves challenged with controlling our snacking impulse. We are fortunate to live in the fourth largest city in the United States where restaurants are plentiful and so are grocery stores. While the restaurants are temporarily limited to delivery and take-out, more people have been compelled to buy more food items to prepare and enjoy at home.
In the south, we have a reputation for hardy meals with big portions, which includes desserts. However, there are many options for those of us who prefer a light dessert. Trentino Gelato, which is made right here in Houston, Texas, offers a variety of flavors of its product as well as some dairy-free choices such as their sorbets.
Gelato is not ice cream; it is similar in texture and taste, and the way that it is served. According to their website: www.trentinogelato.com/about, "Gelato has 30 percent less fat than American ice cream and 50 percent less air, which gives it a denser, creamier texture," Marcelo Kreindel, founder of Trentino Gelato, says. "The lower fat content gives it a more intense taste, so you can really experiment with flavor."
Marcelo Kreindel, an Information Systems Specialist who relocated to Houston more than 10 years ago, founded the company.
"He stuck with his day job until 2004 when he decided to pursue his dream of creating a vibrant Buenos Aires-style gelato café in Houston. He returned to Argentina to study the trade for a year, learning how to source and combine the best ingredients to create the rich flavors for which gelato is known."
Marcelo's tenaciousness paid off because we tasted some of the gelato pops, and sorbets, that were described by a few of my co-workers as "amazingly good, outstanding, delicious, and absolutely refreshing".

Our favorite so far was the strawberry lemonade sorbet, to write that it tasted good is an understatement of the fact that this was a true work of art expressed in a decadent but satisfying dessert. The flavor combination of the lemon and strawberry was well-balanced, it was not too sour, nor was it overly sweet.
The second runner-up was the chocolate gelato pops that were rich, creamy and just the right portion size. We were also surprised by the donuts sprinkles gelato, which was as pretty to look at, as it was to eat. It was light, tasty, but not overly sweet.
Currently, Trentino Gelato products can be found at most H-E-B Stores and Phoenicia Market.
Thanks for reading, and please continue to follow Team Style Magazine on Facebook, Instagram, and Twitter.