Amped Up and Ready
J.J. Watt holds press conference to talk to the about the 2020 NFL season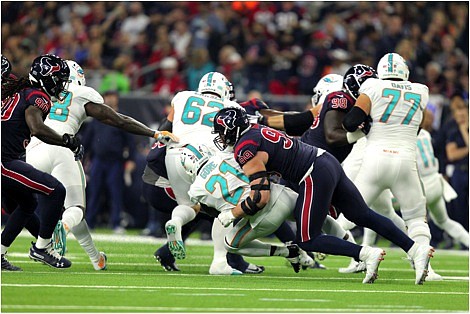 As sports fans in Houston and surrounding areas cling to the possibility of sports returning soon, one of the biggest superstars in "The H" held a press conference via Zoom to reassure fans that he is ready for the season. He also gave a little insight on what he has been doing since being quarantined during this global pandemic (COVID-19).
"I don't really leave my house a whole lot," said Texan defensive end J.J. Watt. "I go pick up food, but other than that it's me and the dogs sitting here. K (Kealia Ohai Watt) is actually up in Chicago training. So, now it's just me and the dogs down here in Houston. They love that because I throw the tennis ball 650 times an hour and when I'm not training that's literally all I do."
At age 31, Watt is heading into his 10th season in the NFL (all with the Texans) and is looking forward to having a very productive season under new defensive coordinator Anthony Weaver, but wants to help the team in every way possible to be successful. In order to do that he must avoid the only thing that can slow him down and that's the injury bug. Watt has played a total of 32 regular season games since 2016, the last full season was in 2018 where he made the NFL All-Pro team.
"My goal for every season is the same, it's to do whatever possible to help the team win," Watt responded when asked what his goal is for the 2020 season. "Obviously, number one that means staying healthy. You have to be out on the field in order to help the team win. Then it's to play at the peak physical level that I'm capable of. I mean, I know exactly what I'm capable of doing on the field. That's my goal, is to play at that level, because that's the level that helps a team win the best. It's just making sure that I'm in the best possible shape and the best possible condition to perform that way."
The overall 11th pick in the 2011 draft and three-time Defensive Player of the Year also weighed in on a social matter that has hit close to home (Houston). A video was recently released of a Houston native (George Floyd) being detained by Minneapolis Police officers in response to business owner's call for police help that would eventually lead to the death of Floyd. The video was graphic in nature and would lead to the four officers that were involved with the death of Floyd to be terminated from the department.
"I've seen the video and I think it's disgusting," said Watt. "I think that there's no explanation for it, to me it doesn't make any sense. I don't understand how that situation can't be remedied in a way that doesn't end in his death. I mean, it's terrible. It's extremely difficult to watch and it's upsetting."