29 Female CEO's Rank #1 On Amazon After Publishing A Prayer Pack Devotional For Female Business Owners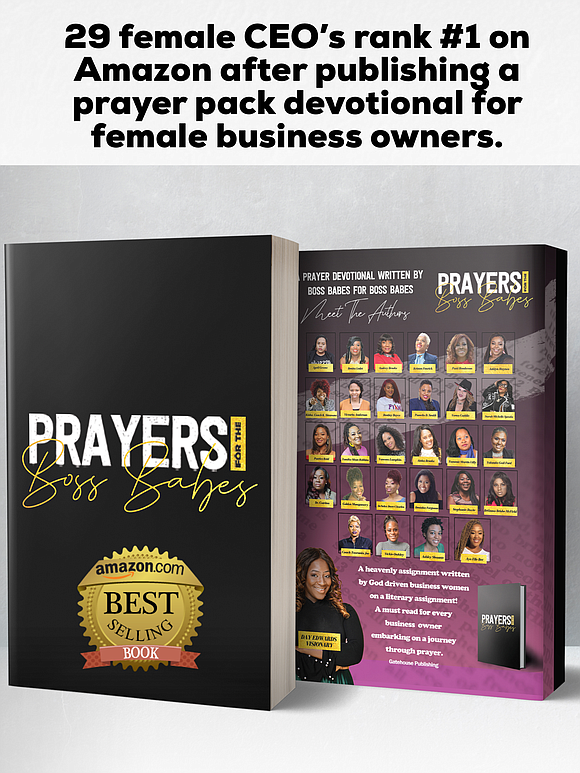 Sis, building a business is HARD, and it's ok to say that. Admitting an issue is the first step in overcoming. We think that's what the authors of "Prayers for The Boss Babe" did this year; they admitted an issue and overcame. With this being a perilous year, it is quite understandable to be confused, angry, and want to give up. Who blames you?! We don't for sure, but, to be able to persevere against all odds and overcome every obstacle requires a strength and strategy that is not of man. Imagine this, Audacious Boss Babes who are dominating their industry that came together during a pandemic (that I might add is still happening) to tell their story of triumph in the marketplace through prayer. Yes, you read right - prayer.
Prayers for the Boss babes is a power-packed, heart-tugging devotional. It journeys the life of some of today's most prominent female Christian entrepreneurs and business women as they give a wealth of knowledge on how to create, build, overcome in the marketplace and personal life through prayer. This is dope because it reminds us that not only is prayer a strategy but we can get more strategic by using that tool.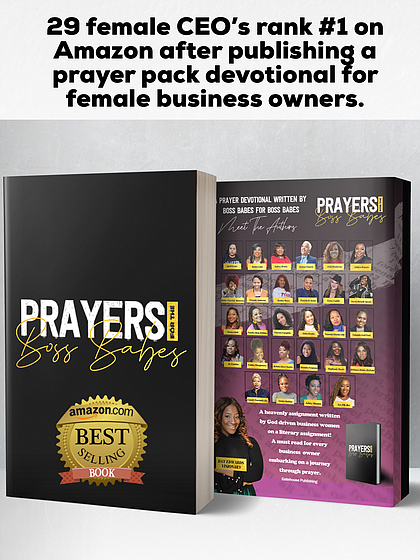 Twenty-nine praying Boss Babes (whom we shall name) - Visionary Day Edwards, Co-Authors: Victoria Anderson Founder of Wearing My Prayers, Minister Natalie Huffman-Blake, Chrisitan Speaker Pamela D. Smith, Alicia Brown Founder of Nine Digits Tutoring, Golden Montgomery Owner of Golden's Glitter Box, Benita Ledet Creator of Love in A Box, Sarah Michelle Speaks owner of Handbags U Like, Destiny Boyce, Aisha Brooks owner of Komplet Expertise, April Greene owner of AMGreene Enterprises, LLC, Brianna McField Author and 2019-2020 Miss Black and Natural, Soul Coach Patti Denise Henry , Denisha Ferguson founder of India fashion week , Audrey Brooks CEO and Founder of Women Empowering Women, Stephanie Davis Author and CEO of Stephanie Davis, M.Ed, LPC, Dr. Catrina The Chain Breaker CEO of PullCorp Media & Business Consulting Group, Tomiko "Shan" Robbins CEO of N'Spired Blessings, Vanessa Lampkin CEO of Vanessa Lampkin Enterprises, Verna Caddie Founder of Divine Creations,, Kisha Simmons founder of Teen K.I.C.K , Kristen Fenrick Creator of Klearly Kristen, Author Tammie M. Lilly, DeNeka Dove Charles Owner of Touch of Pizzazz Salon, Award Winning Publicist Patrice Reid, Fitness Coach Tawania Joe, Ashlyn Haynes owner of Divine Hands, Author Ashley Shaunte, Author and Non Profit owner Vickie Oakley , Yolanda Ford CEO of Miracles R Real Outreach, Inc. took the initiative to allow us into their truth of uncertainty, journeying through transitions, and becoming whole and ready for a mega move of God while building successful brands. This devotional doesn't stop at overcoming the shakiness of business building, but it encourages all readers to conquer through their testament of leaning on God in prayer while being pioneers in the marketplace.
We don't know how you feel, but, the marketplace can be scary, especially living in 2020. Prayers for Boss Babes couldn't have came at a better time. The times we are living in is constantly reminding us that this year is far from over and the wealth of knowledge in this book can get you right on track. It is such a great devotional that in less than 24 hours of its release, "Prayers For The Boss Babes" charted to #1 on Amazon's Best Sellers' list in the 'Devotionals' and 'Prayer Literature' categories.
These boss women understood that the reason the trajectory of their lives shifted was because of their prayers. They knew the next step was to share the formula to unlocking manifestation with other female business owners. There's a devotion for every stage of life, faith, business, and hope. Each story will leave you with strength, peace, hope, confidence, and more! We're not saying get the book, but get the book. A page a day can shift your life forever!
Check out the Prayers For The Boss Babe Book Trailer:
For more information about Prayers For Boss Babes please visit: Amazon.