Kamala Harris: Visualizing a Future Never Once Imagined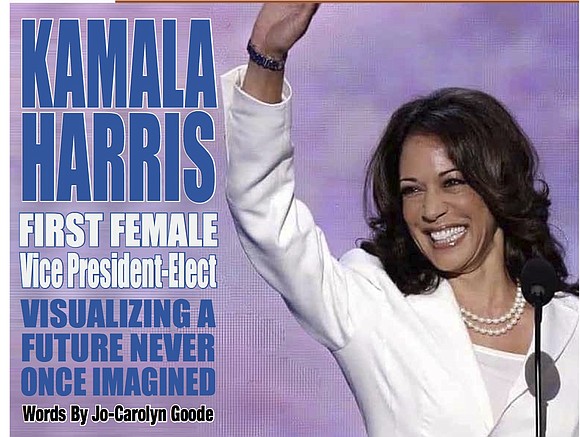 Barriers are meant to block someone or something from occurring. Just as they are meant to deter, barriers also can serve as motivation for someone to do what has never be done before. For years women have encounter roadblocks in the climb up the political ladder. Despite what was in their way they kept pressing forward, pushing the mark, never losing their focus. Never underestimate a woman who has ever been doubted. She will just smile in your face and say 'Watch me work.'
We watched Shirley Chisholm in 1953 when she entered the political world as part of Judge Lewis Flagg Jr.'s campaign. Chisholm famously said of women in politics, "If they don't give you a seat at the table, bring a folding chair." She took her chair to the table when she dared to chip at the proverbial glass ceiling when she became the first African American woman to be elected to the U.S. Congress, candidate for a major party's nomination for the President of the United States of America, and ran for the Democratic Party's presidential nomination.
Next, we watched Charlotta A. Bass take a seat as the first African American woman to be chosen by a political party as a vice president candidate in 1952. Bass was on the Progressive Party ticket with Vincent Hallinan.
Over the years we have watched African American women continue to bring their chair to the table chipping at ceiling with victories like Lelia Foley-Davis, the first African American mayor in the nation; Carol Moseley Braun, the first African American woman elected to the U.S. Senate and the first African American woman to win a major party's Senate nomination; Condoleezza Rice, the first African American to hold the post of National Security Advisor and first African American woman U.S. Secretary of State; Karen Bass, the first African American to serve as speaker of a state house and to lead either house of a state legislature; Loretta Lynch, the first African American U.S. Attorney General; and Minnie Buckingham Harper, the first African American woman legislator in the U.S. After each milestone, more and more cracks were made in that glass ceiling until it was shattered by the U.S. Vice Presidential election of Kamala Devi Harris, the first female, African American, Asian American, Indian-American woman to hold the highest office of any woman in the United States of America's political history.
Feelin' great because the light's on me
Celebratin' the things that everyone told me
Would never happen
But God has put his hands on me
And ain't a man alive could ever take it from me
As the lyrics of Mary J. Blige's Work That blared from the speakers in a packed parking lot of Biden/Harris supporters in Delaware, Harris strutted on the national stage like she has been there before to take her rightful place in history. She knew that this moment was so much bigger than she. She knew it was a moment not just for Black women and girls but all women from the past who were ever told that they couldn't be apart of the political process to the young girls with dreams and wide eyes who now know that life has no limits. Harris stands for all of them.
"…while I may be the first woman in this office, I will not be the last. Because every little girl watching tonight sees that this is a country of possibilities and to the children of our country regardless of your gender, our country has sent you a clear message: Dream with ambition, lead with conviction and see yourselves in a way that others may not simply because they've never seen it before," said Harris as she now lives the dream that so many never thought would be possible.
It certainly was not the dream her mother had imagined for her daughter. Shyamala Gopalan Harris came to this country at the young age of 19 from India in 1958 to study in a masters program in nutrition and endocrinology at the University of California, Berkeley. She would later receive her Ph.D. in the same field of study.
Harris paid honor to her mother during her victory speech as she remembered all those whose shoulders on which she stands.
"I am thinking about her (her mother) and about the generations of women, Black women, Asian, white, Latina, Native American women, who throughout our nation's history, have paved the way for this moment tonight, women who fought and sacrificed so much for equality and liberty and justice for all. Including the Black women who are often, too often overlooked but so often proved they are the backbone of our democracy."

No one could have imagined that the little girl born, October 20, 1964, in Oakland, California, educated in Canada, and taken root back on U.S. soil would grow up to reach such heights. Following her life story, Harris seemed to be predestined to work for the people in politics. Her political mind was molded by the influence of her grandfather, P. V. Gopalan, who had progressive views on democracy and women's rights. As a kindergartener, she helped to desegregate a Berkeley school on the richer side of town. She experienced racism on visits to her father's home when the neighbor kids wouldn't play with her and her sister because of their skin color. Those would help her to be more than a friend to one of her classmates who was being abused in their home. The friend told Harris how she was molested and Harris told her parents. Her friend then was invited to live with them throughout her high school senior year. Harris has said this experience helped develop a passion in her to help protect women and children.
Getting the necessary education to work for the people, Harris earned degrees from Howard University, University of California, and Hastings College of the Law. Upon graduation, her first job after joining the California Bar was the deputy district attorney in Alameda County, California. That was the first step in her career that would see her rise up as the 27th District Attorney of San Francisco (the first person of color elected), 32nd Attorney General of California (first woman, first African American, and first South Asian American elected), and the U.S. Senator from California, and to her historic position as Vice President-Elect.
Harris is well aware of the weight of this position. Not only has the limits of what girls and women have been banished. But so has the thought that a quality education can't be earned at a Historically Black College and University. Howard University was chartered in 1867 with the purpose of training young black clergymen. Now HU has awarded more than 120,000 degrees to graduates in an array of disciplines.
Harris once tweeted, "When you attend an HBCU, there's nothing you can't do," including be the Vice President of the United States of America.
HBCUs are certain to reap under the Biden administration with Harris' ties since so many are underfunded in comparison to predominantly White institutions. A campaign pledge under Biden's plan for education beyond high school includes investing over $70 billion to assist HBCUs and other institutions.
Harris' election is also shining light on another historic institution that of the first and oldest Black Greek lettered sorority in the nation, Alpha Kappa Alpha Sorority, Incorporated. She joined the hearts and hands of sisters everywhere when she became a member with her 35 line sisters on the Spring 1986 line of the Alpha Kappa Alpha Sorority, Incorporated Alpha Chapter.

"Family is my beloved Alpha Kappa Alpha, our Divine Nine, and my HBCU brothers and sisters," said Harris during her acceptance speech as the Democratic Vice Presidential Candidate.
Her family did not disappoint. Immediately after Biden named her as his running mate donations in the amount of $19.08, the founding year of AKA, rolled into the campaign. Soon behind those came the galvanization of the entire D9 with donations of $19.06, $19.13, $19.11, $19.14, $19.20, $19.22, and $1963, all representative of the founding years of the members of the D9. HBCU grads also got into the movement making donations in the amount of the founding years of their universities. Support for Harris also came when these same organizations made pushes all across the country to get people registered to vote and made sure that they showed up to vote early.
HBCU grad and Spelman alum Stacey Abrams, with the help of the New Georgia Project, registered 800,000 new Georgia voters to fight voter suppression.
Harris' election does not just open doors in so many places. It completely removes the doors from their foundation. Together, Biden and Harris can heal the soul of our nation removing barriers so color of any kind is not seen to allow them to truly lead a country for all Americans.
You may write her down in history
With your bitter, twisted lies,
You mat trod her in the very dirt
But still, like dust, she'll rise
Up from a past that's rooted in pain
Bringing the gifts that her ancestors gave
She is the dream and the hope of the slave
She'll rise
She'll rise
She'll rise
* Lines adapted from Maya Angelou's Still I Rise
With the election of Biden and Harris we now have hope to rise together as a country. We can rise above systemic racism, above the climate crisis, above the economic downfall, and above the things that divide us to stand on the things that unit us. It is our time to let go of past hurts and move towards a bright future thereby removing colors of any kind to heal the soul of our nation as a country made for all Americans regardless of race, religion, sexual orientation, or party.
Kamala Devi Harris
– Professional Career Path –
First Job:
Alameda County, CA. • District Attorney • 1990
Second Job:
San Francisco • Assistant District Attorney • 1998
Third Job:
San Francisco • City Attorney • 2000
Fourth Job:
San Francisco • Assistant District Attorney • 2003
Fifth Job:
San Francisco • District Attorney • 2006
Sixth Job:
32nd California Attorney General • 2010 33rd California Attorney General • 2014
Seventh Job:
U.S. Senator From California • 2017
Eighth Job:
Democratic Presidential Nominee • 2019
Ninth Job:
Democratic Vice Presidential Running Mate • August 2020
Tenth Job:
Democratic Vice Presidential-Elect • November 3, 2020
Kamala Devi Harris
– Background –
D.O.B.:
October 20, 1964
BIRTH CITY:
Oakland, California
MOTHER:
Shyamala Gopian Harris •Biomedical Scientist • Born April 7, 1938 • Deceased February 11, 2009 • Age 70
FATHER:
Donald Jasper Harris • Economist & Professor Emeritus • Born August 23, 1938 • Age 82
SISTER:
Mya Lakshmi Harris • Attorney & Public Policy Advocate • Born January 30, 1967 • Age 53
NIECE:
Meenakshi Ashley "Meena" Harris • Attorney & Children's Book Author • Born October 30, 1984 • Age 36
HUSBAND:
Douglas Craig Emhoff • Attorney • Father to Cole, 25 & Ella, 21 Emhoff • Born October 13, 1964 • Age 56
ELEMENTARYSCHOOL:
Thousand Oaks Elementary - CA • May, 1969
HIGH SCHOOL:
Westmount High School - CA • May 1981
UNDERGRAD:
Graduated from Howard University • Political Science & Economics • Class of 1986
LAW SCHOOL:
Graduated from University of California Hastings College of the Law • Class of 1989
BAREXAMINATION:
Failed Her First Attempt To Pass The CA. BAR Examination • Passed On Second Attempt