Houston ISD Board Blocks Lathan From Top Spot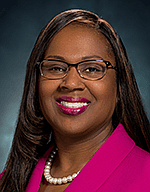 No surprises were made by the way the Houston ISD School Board voted 6-3 to decline interim superintendent Dr. Grenita Lathan the permanent job to run the largest district in Texas.
"Am I shocked? No," said board member Wanda Adams. She further added that current board members strayed from their word given at the beginning of their tenure.
With this vote, the board has indicated they want to start a nationwide search for a permanent superintendent to have a transparent and fair process. Board president Sue Deiggard even offered Lathan the opportunity to apply for the position.

"I respect the decision of the HISD Board of Education to resume the search for a superintendent. Just as my focus has been for the past five years in HISD, my goal remains the same: to continue to achieve academic excellence in the district and support each and every student, parent, and staff member to the best of our team's abilities," said Lathan in a district issued statement.
This vote follows the long history of the widely known dysfunctional and racially basis board. Some members have not been shy in their disapproval of the performance of Lathan. And some have shown by their previous actions that they favor a Hispanic superintendent since the district is a Hispanic majority. The board was under scrutiny when it was discovered that some met privately to devise a plan to replace Lathan with previous superintendent Dr. Abe Saavedra. And that was not the only time board members tried to have Lathan replaced.
It is interesting that the board would want to deny the job when so many came out in favor of her having the top spot including 45 HISD administrators; several politicians as Congresswoman Sheila Jackson Lee, State Reps. Alma Allen and Senfronia Thompson; teachers, parents, and others.
Supporters, like board members Wanda Adams, Pat Allen, and Kathy Blueford-Daniels, all echoed that the district needs stability during the time of this global pandemic with one has proven leadership and has a genuine in making sure students have the best for their future.
In her tenure as interim superintendent, Lathan has weathered the remnants of Hurricane Harvey, budget problems, special education operation difficulties, lawsuits, and more. A new superintendent search will put a larger dip in the budget with an estimated cost of $210,000.
Despite that, she has sustained growth in the district while successfully operating in uncharted waters of a global pandemic to fulfill safety, educational, technology, and other needs of administrators, students, teachers, and other staff. She has turned many of HISD low performing schools around like Kashmere High School who met academic standing for the first time in eleven years.
Houston Association of School Administration Executive Director Josephine Rice said in a previous interview that Lathan has probably brought the district through more turmoil as interim superintendent than most superintendents in a lifetime.
It is still unclear if the board can hire a permanent superintendent since they are still in limbo of being replaced by the Texas Education Agency after Wheatley High School received a failing grade for the seventh straight year. The lawsuit is pending to go before the Texas Supreme Court. If the verdict does not fall in favor of the board, TEA will select the new superintendent and board members.
Adams, who has resigned from the board to serve a justice of the peace position, further stated, "I just hope and pray that as you all move forward, that you lead with honesty and integrity."